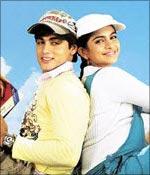 No, it's not Juno. In every sense of the statement. 
Sure, a teenager gets involuntarily knocked up and decides to give birth. That's where Teree Sang's similarity ends with pretty much every movie of its genre. If at all there have to be comparisons, Satish Kaushik's meandering melodrama is at best an incompatible marriage of Kya Kehna to Qayamat Se Qayamat Tak. 
And for all its purported intentions to enlighten susceptible youngsters about the importance of safe sex or trauma of teen pregnancy, Teree Sang is much too occupied glorifying the silly actions of its dim-witted protagonists and passing the buck to their equally sloppy mummy-papas.
Disappointed by the indifference of her frequently-flying parents (Rajat Kapoor, Neena Gupta), 15-year-old Mahi (Sheena Shahabadi) finds comfort in the bourgeois ways of Kabir aka Kuku (Ruslaan Mumtaz), a 17-year-old lad and his auto-rickshaw driving daddy and smothering mommy residing in Delhi's Subzi Mandi area.
Conveniently (and irresponsibly) enough, these kids are hardly ever shown attending school. Instead they hang around malls and buildings with a bunch of good-for-nothing, bad-hair day-suffering bums, yapping in bogus Dilli lingo, being their unproductive best.
Interestingly, whatever resentment they may feel for their parents, they seem to have no ego when it comes to accepting/borrowing credit card/cash at any time. To think Teree Sang tries mighty hard to convince its viewer just how innocent and child-like its young leads are is nothing but an exercise in annoyance and futility. Truth be told, Mahi and Kuku come across as a pair of dumdums in dire need of thrashing. And pronto. 
On New Year's Eve, Mahi's curiosity about the 'birds and bees' finds its peak and willing bakra in Kuku. It also sets stage for one of the most terribly-written scenes of the film. 'Tum kabhi kisi ladki ke saath soye ho? (Have you ever slept with a girl before this?)' she quizzes him. Wrong question, girl. The right question would surely save her a lot of tummy-related woes.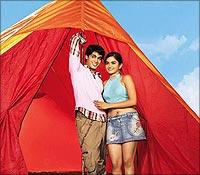 Not that she has any hang-ups about that either. Had Kaushik constructed Mahi as an individualistic child-woman of substance and spark, her decision to keep the baby would credit conviction. His Mahi, however, is a dense, needy and flat personality who clearly has a lot of growing up to do. (Say, how about not talking like a pig-headed five year-old for starters?)  That she would want to stay pregnant doesn't ring true.
Neither does Kaushik bother to highlight the delicate challenges that lie ahead for a young girl -- physically and mentally in this state. Pregnancy is not an illness but it's still a sensitive time in any woman's life. Even an equipped adult goes through her share of uneasy days. Mahi, oddly enough, is freakishly nonchalant about the nine-month ordeal. Like she cries to her dad on the phone, 'I am not a victim.' That's the only believable scene in this mostly misleading, unintelligent movie.
Ultimately, Teree Sang establishes nothing about its core issues -- teen pregnancy and irresponsible parenting. Instead of educating its target audience, Kaushik comes up with a warped validation for their actions: What can one do about 'kudrat ka kanoon (law of nature)?' The filmmaker is more concerned about showing Mahi and Kuku play house in a vacant hill-top bungalow, while their parents twiddle fingers in their hopeless pursuit. 
While on the subject, it's saddening to watch talented actors like Rajat Kapoor and Neena Gupta reduced to playing twisted zombies. The discomfort in their body language is hard to miss. On the other hand, Sushmita Mukherjee does adequately even while uttering obsolete dialogues like 'Tune kha liya mera pet bhar gaya.'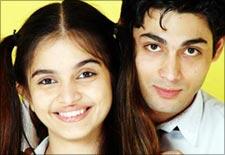 Meanwhile, Kaushik allows himself abundant screen time as Ruslaan's voluble, innuendo-spewing father. Oh well.
Coming to the kids in this Kidult caper, why do they speak to each other like Koi...Mil Gaya's Hrithik Roshan? Ruslaan and Sheena are neither experienced enough to shoulder the burden of badly written roles nor charismatic enough to project irresistible screen presence.
Unlike Kya Kehna, despite its glaring flaws and excessive sentiment, Teree Sang evokes no sympathy nor merit debate or discussion. Moreover, it has no Preity Zinta.
Rediff Rating: