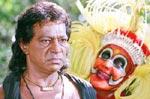 National award winning actor and theatre personality Murali passed away on August 6, at the age of 55. He was suffering from acute diabetes.
At the time of death, he was serving as the chairman of the Kerala Sangeeta Nataka Academy.
Murali has acted in more than 300 films and carved out a niche for himself with the kind of impact that his characters made on screen. He won the National Award for his stellar performance as Appa Mestri in director Priyanandanan's Neythukaran in 2002. He also won many state and other awards for his roles in films like Amaram, Aadharam, Kanakkinavu and Thalolam among others. 
A native of Kudavattoor in Kollam, Murali has always been a supporter of the left parties and progressive movements. As a student, he was an active member of the Students Federation of India (SFI). After earning a degree in law, he worked for a few years as a clerk in the Department of Health, Government of Kerala and in the University of Kerala before becoming an active film and theatre actor.
He was active in theatre before making his entry into films with an unreleased film Njattadi, directed by Bharat Gopi. His love for theatre remained intact even after he became active in movies. He enthralled the audience with his performance on stage with Lanka Lakshmi, a few years ago.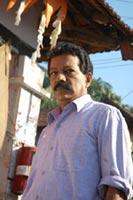 He was a voracious reader and as a writer, he has won the Sangita Nataka Academy award for his book, Abhinethavum Asan Kavithayum.
Murali has made a tremendous impact on screen with his wide ranging roles in films like Aadharam, Amaram, Neythukaran, , Chakoram, Lal Salam, Thalolam, Garshom, Kanakkinavu, Venkalam, Chamayam and Karunyam, besides many others. He has been careful in staying away from stereotyped characters and has made it a point not to repeat himself on screen of roles of the same pattern.
He contested the 1999 Lok Sabha elections unsuccessfully as a CPI(M) candidate.
It was during the shooting of films like Pulijanmam and Drushtantham that this writer could interact with the actor. His mood swings were much talked about, but Murali turned out to be quite a friendly person. He was always passionate about the art of acting and believed that an actor's role is not just limited to that of a passive interpreter of ideas.
He made it a point to strike a balance between the commercial and serious films and never hesitated to admit with a warm smile that he had to make some compromises at times as a part of mainstream commercial cinema.
He was shooting for a Tamil film in South Africa for almost a month now. He had plans to direct a film but was not sure if he had the patience to do it.
Murali will be remembered for his eminence as an actor par excellence and also as a great human being.