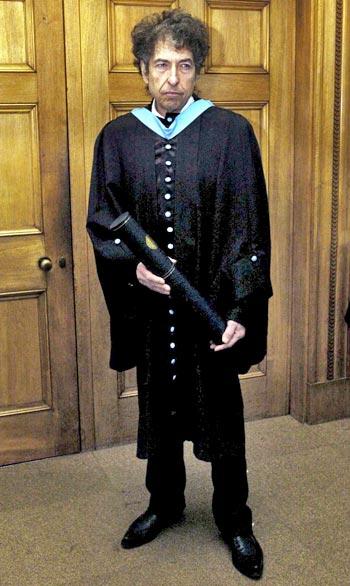 Bob Dylan is all set to release an album of Christmas songs, the Telegraph.co.uk reported.
According to the website, the album will include songs like Here Comes Santa Claus and the carol O Little Town of Bethlehem.
 
Originally of the Jewish faith, the singer, a Born Again Christian from 1979-1981, released three religious-themed albums.
News of the album first appeared on Isis magazine website.
'It is a personal project of Dylan himself rather than an idea put forward by his record company,' Telegraph.co.uk quoted David Hidalgo of Los Lobos, one of the musicians who took part in the album, as saying.
Billboard magazine has also confirmed that the album existed. Other songs included Must Be Santa and I'll be Home for Christmas, it said.
Image: Bob Dylan poses after receiving his honorary Doctor of Music degree from St Andrews University, Scotland in 2004. (Photograph: Reuters)