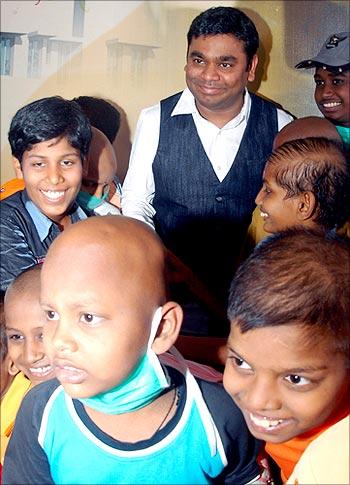 Oscar winning music composer AR Rahman is planning a free concert Down Under in a bid to relieve the ongoing tension between India and Australia following racist attacks.
The composer, who won two Academy Awards for his work on the Slumdog Millionaire soundtrack, was devastated to hear of a series of violent incidents involving Indian students studying in Sydney and Melbourne over the past two months.
He's hoping to improve international relations with music and is set to organise a free concert in Sydney in January (10) as part of the region's cultural festival.
'Considering the ecent hassles that have created a bad vibe, I thought this concert would be a statement of peace. I hope it will do what ever it can to reunite culturally and spiritually,' the Daily Express quoted Rahman as saying.
'This show is very important to me. I hope it creates a bridge of understanding and love,' he added.
Image: A R Rahman (centre) poses for a picture with cancer affected children at a cancer institute in Chennai. (Photograph: Babu/Reuters)