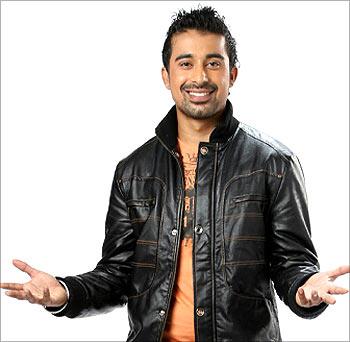 Popular VJ Rannvijay who is all set to make his debut in movies, is overwhelmed on being "pampered" by the bigwigs of Bollywood but the debutant is not ready to ditch his role as a TV presenter.
Rannvijay, who will be seen in Vipul Shah's London Dreams starring Salman Khan, Ajay Devgan and Ghajini star Asin Thottumkal, said he had a gala time working with Salman and Ajay.
"They (Salman and Ajay) are such fantastic people. We all had so much fun while shooting that I can safely say that I was thoroughly pampered throughout. Never did I feel like a newcomer on the sets of the film," Rannvijay told PTI in a telephonic interview.
However, when asked whether the actor had plans to quit the small screen for a Bollywood career, the actor said, "I will be stupid if I leave it. It is something I love doing. The adrenalin rush while doing Roadies and the respect earned from the contestants is irreplaceable."
London Dreams was supposed to be the launch pad for this 26-year-old debutant in Bollywood but because of the recent strike between film producers and multiplex owners, the release of the film got delayed.
"I don't have a producer dad who could launch me the day I want to. But then I have no qualms about it," said Rannvijay who is now debuting with Toss.