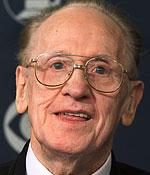 Les Paul, the man who introduced solid body electric guitars to the world, has passed away. He was 94.
Gibson, the firm that sold his guitars, has revealed that the influential figure died of pneumonia.
Some of the eminent names in the rock world, who have been linked to the Les Paul sound, sometime or the other in their careers, are U2 guitarist The Edge, Led Zeppelin''s Jimmy Page, Guns N' Roses star Slash and The Who's Pete Townshend.
Guitar gods and rock historians are mourning his demise and are all praise for his contribution to contemporary music.
'Les Paul was a shining example of how full one's life can be. He was so vibrant and full of positive energy. I'm honoured and humbled to have known and played with him over the years,' the BBC News quoted Slash, Guns N Roses guitarist as saying.
G3 member Joe Satriani called him "the original guitar hero," and added that 'Les Paul set a standard for musicianship and innovation that remains unsurpassed.'
Gibson president Dave Berryman: 'As the ''father of the electric guitar'', he was not only one of the world's greatest innovators but a legend who created, inspired and contributed to the success of musicians around the world.'
Paul's career is not just marked by the electric guitar; he was also a highly appreciated musician.
He produced 11 number one singles and 36 gold discs with his wife Mary Ford.
He was inducted into the Grammy Hall of Fame in 1978 and the Rock 'n' Roll Hall of Fame in 1988.
Paul built his first solid-body electric guitar, dubbed "the log", in 1941but he was able to sell electric guitars from 1952.
Photograph: Sam Mircovich/Reuters