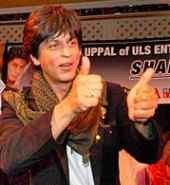 'Shocking', 'disgraceful' and 'madness' is how Bollywood on Saturday described the treatment meted out to actor Shah Rukh Khan, who was detained and interrogated for two hours at a United States airport, apparently because of his surname. His close friends Karan Johar, Farah Khan, Juhi Chawla and Aziz Mirza as well as industry veterans like Mahesh Bhatt and Raza Murad slammed the ill-treatment meted out to the megastar.
"Shocked and upset... feeling terrible for Shah Rukh...," Johar, a well-known film director, wrote on his Twitter page while Juhi said the detention was "as absurd as Brad Pitt coming to India, being strip-searched, investigated and interrogated".
Choreographer-turned-director Farah Khan, one of Khan's closest friends, asked, "If he can be discriminated (on the basis of religion), who else is left? Shah Rukh was on Time Magazine's 50 Most Influential People List. It is not only discrimination but lack of knowledge also."
Filmmaker Bhatt said, "It is shocking that Shah Rukh Khan, who is by every definition a global icon, should be subjected to something like that".
Actress Priyanka Chopra, who had worked with Shah Rukh in 'Don', termed the incident as 'disgraceful'. "Shocking, disturbing and downright disgraceful. It is such behaviour that fuels hatred and racism. SRK's a world figure for God's sake. Get real," an angry Chopra wrote on her Twitter page.
Khan, one of the most prominent faces of the Hindi film industry on the global stage, was on his way to attend an Independence Day celebration function in Chicago, when he was detained and questioned for two hours at Newark Airport. His detention is not an isolated case for the Indian film industry.
Irrfan Khan, who faced a similar problem last year in US despite his global fame following the success of 'Slumdog Millionaire', said, "We should point out loopholes in their airport security system".
Director Kabir Khan, whose film New York was based on the paranoia towards Asians in the post 9/11 US society, said it is a clear case of fear psychosis.
"Shah Rukh just happens to be a superstar so we took notice of it. It is happening everyday. You just type his name on Google and you get more hits than Brad Pitt and Tom Cruise combined. There is a clear element of arrogance in the entire episode," he said.
Filmmaker Aziz Mirza, who directed Shah Rukh first in TV serial 'Circus' in the 1980s and then in hit movies like Yes Boss and Chalte Chalte, felt that whatever the US authorities had done was 'sheer madness'.