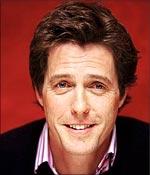 British heartthrob Hugh Grant has announced that he is hanging up his acting shoes, adding that his upcoming film Did You Hear About The Morgans? will be his last screen outing. The actor, who has often complained of stage fright, said that he found acting a 'miserable experience' and therefore has decided to take a final bow, reported Entertainment Weekly.
'In recent years, I've had really bad attacks where I totally froze up. I thought, if I am going to get stage fright, then I am packing it in,' said the actor.
The 48-year-old said that he had been on the verge of quitting acting before his life-changing audition for Four Weddings and a Funeral, which made him an international star.
Blaming a string of stage fright attacks, the Golden Globe award winning actor insists that he is ready to give up his day job at last.
'I like everything about filming except the acting. I'm wonderful in rehearsals, but I have never been very good when they actually switch the cameras on,' said Grant.
But the actor's latest announcement, may be taken lightly because he has a habit of threatening to quit and then signing up for another movie. Grant has admitted that he feels embarrassed for threatening to quit acting and then signing on for new films.
'I realise how ridiculous that makes me look,' he said. And this time it remains to be seen if he will stay true to his word.