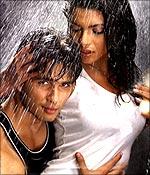 Indian Americans have asked the American Academy of Motion Picture Arts and Sciences to introduce a new award category of 'Best Bollywood Film' for films made in India.
Rajan Zed, a leader of the Indian American community here, said in a statement that India had the largest film industry in the world and thus it deserved at least one category in Oscars where its movies could compete among themselves. This gesture would bring more credibility to Oscars also in the international arena, as it was long overdue.
He further said that cinema in India, based in Mumbai and various regional centers, reportedly produced much more films and drew much larger audience globally than Hollywood (which released only 610 movies in 2008).
It was, therefore, unfair for such an influential cinema not to have its own category at Oscars. Foreign Language Film Award at Oscars, where only one picture was accepted from each country, did not do justice to such a large industry, Zed added.
Academy, launched in 1927 and dedicated to the advancement of the arts and sciences of motion pictures, has over 6,000 artists and professionals as honorary members, including actors like Jack Nicholson, directors like Steven Spielberg, executives like Steve Jobs, musicians like Elton John and writers like Ruth Prawer Jhabvala etc.
Located in Beverly Hills,  (California), the American Academy of Motion Picture Arts and Sciences will host the 82nd Academy Awards on March 7, 2010.