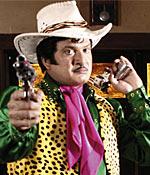 First, the story. The man who has composed Quick Gun Murugan is called Sagar Desai, and why this news is coming to you like a revelation is because Fox Studios and Sony Pictures have conveniently omitted his name from the credits of the Quick Gun Murugan soundtrack, now in stores. Apparently, they forgot -- to mention the composers name on the soundtrack. Wow. ('Naughty, naughty Fox,' you can picture Quick Gun saying, wagging his pistol censoriously)
So here's the official word that hasn't made it to the CDs: Music by Sagar Desai, except Murugan Superstar by Raghu Dixit, and Lyrics by Ankur Tiwari, except Ek Tha Murugan by Shellee. Do spread the word.
The album opens with a Dialogue Mix, and for all of us fond of Channel V's iconic bovine-lovin cowboy, we're in for a Murugan fix as the exaggerated yet alarmingly realistic Southern gunslinger is back in all his corny glory. It does go on a trifle long, though.
Murugan Superstar is a ridiculously happy Raghu Dixit composition, light and frothy. It's a song that keeps it simple, and while the singing leaves some stuff to be desired, the cheerleader-style chorus is great fun.
Mind It is described as a Tamil Bhangra, and it is with this song that the album really starts sounding innovative. It's a genuine bhangra track soaked in sambhar, and things only get more interesting with Kyoon Keeda Hai Aapko, a wittily written carnatic-cool track.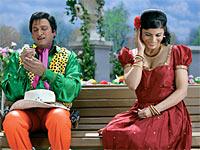 The sombrero is next doffed towards the legendary Ennio Morricone, the man who composed the greatest Western themes in history. This one's a bonafide theme song, a lovely track somewhat let down by its lyric -- but this is trueblue Western stuff, while familiar in spirit to legendary themes of yore, and deserves a hand.
Chat Mangni Lover starts off interestingly, a retro ballad that eventually sounds too predictable to be much fun -- but its 'little flower' chorus can sure make for great backdrop to fun visuals. Kuchi Kuchi Twist is breezy and more of the same, sambhar poured over standard songtypes, but things really shine with the spoofy yet sexy Mera Naam Mango Dolly, a breathy cabaret number that can hold its own against the best of 'em. Oh, and this is the one where the lyrics really are a blast.
Space Goddess is the Chat Mangni remix, outstripping the original for sure, after which comes the Mind It remix, a significantly annoying take on an originally good song. Another Chat Mangni remix is called Aunties On The Dance Floor, and it sounds like a perfect track to stumble drunkenly around to. Ragamuffin Mix pleasantly reworks Kuchi Kuchi Twist, but the need for these four remixes is most debatable.
All in all, this is a pretty amusing album, one that stays impressively true to its cheesy-spoofy theme. Some of the songs outstay their welcome and end up sounding like pleasant ad jingles -- fun but not memorable on first-listen -- but when this soundtrack hits its target, its all bullseye. Great fun.
Rediff Rating: