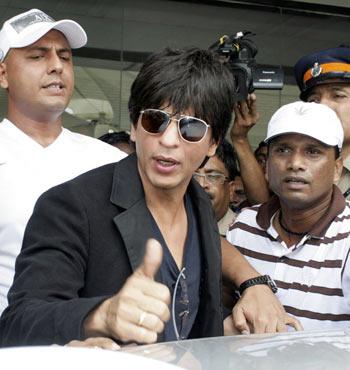 Shah Rukh Khan on Tuesday clarified that his detention at Newark International Airport in the US was not a drama.
Addressing mediapersons in Mumbai after his return, Khan, 43, said, "I was asked bizarre questions by the airport officials. It wasn't a drama. I don't want publicity. But I feel routine procedure was not followed there. We should not be treated on the basis of our colour or nationality."
Recalling the incident, he said he was not angry over what had happened there. However, he felt that the airport officials ''went a little overboard' with the questioning.
Denying that he felt bad about the questioning, he said what really hurt him was the question they popped at him several times, "Your name is very common. Can anyone vouch for you to enter here?"
Rubbishing reports that he was trying to promote his upcoming movie My Name Is Khan, he said, "I hate people who rake up religious issues for their personal gains. I don't want to sound pompous here but I don't need publicity to promote my movie. I am too big a star for that."
The actor also said the incident would not prevent him from visiting the US again. He said that if a 'tit for tat' policy was to be followed, then he would love to be allowed to frisk Hollywood stars Angelina Jolie or Megan Fox.
"I will go to the US when work demands but I will limit my travels," he said. "I have no complaints against the system but I wish it could be more streamlined and less cumbersome."
Khan was detained for about two hours at the airport where he had arrived to attend a South Asian related event in Atlantic City. He was detained after his name flashed on a computer and was asked several questions about the purpose of his visit.
Khan was released after Congress MP Rajiv Shukla spoke to the authorities in the US and the Indian consulate.
The actor returned home to a warm welcome from cheering fans. There was complete chaos at the international airport
where Khan's fans had gathered to welcome him back after his three-day-trip.
Image: Shah Rukh Khan arrives at the Mumbai international airport on Tuesday. (Photograph: Reuters)

With inputs from PTI