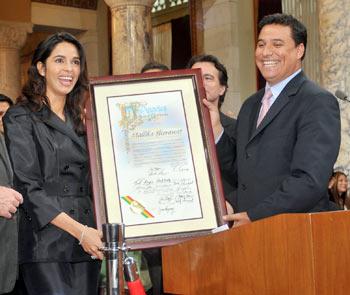 For the first time in the history of Hollywood, a career recognition, honourary citizenship and official resolution was bestowed upon a Bollywood star by the city of Los Angeles.
The star in question is Mallika Sherawat, who looked stunning in a Dolce and Gabbana black suit, carrying a classy bag by Gucci.
Mallika received the honour in front of members of the entertainment industry, friends, family and fans during a ceremony at Los Angeles City Hall on the eve of Indian Independence Day.
Touched by the gesture Mallika thanked those present for the honour. "Thank you. I am deeply, and humbly, grateful for this grand honour," she said. "As a new 'NRI', I dedicate this to all the millions of NRIs who came before me. I hope to follow in their footsteps, and continue the great tradition exemplified by Indians around the world. I am deeply touched, and eternally thankful for this acknowledgment. Jai Ho, Los Angeles!"