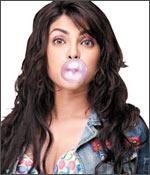 What's your Raashee is a great gamble. And for reasons more than one.
Ashutosh Gowariker, who has so far worked with only the top-billed cast and crew, tempts fate by casting Hurman Baweja in his first-ever romantic comedy. Moreover, he has signed on music composer Sohail Sen, a relative greenhorn (past credits include Sirf and unreleased The Murderer) to replace A R Rahman.
While the results of Hurman's last attempt at salvaging his career post Love Story 2050 will de decided after the film releases, Gowariker's gamble with Sohail Sen may not have paid off.
There are 13 situational songs here with 12 dedicated to the different zodiac signs. It is quite a challenge to be innovative with as many tracks, and keep the listener's interest alive with each. Where Sen disappoints largely is in the mixing and arrangement, which gives WYR a very dated, amateurish feel. Add to it, his audacious attempts at singing. He is no Amit Trivedi, who lent his distinctively raspy voice to Dev D. Sen's voice lacks depth and timbre. However, playback singing these days, often has little to do with trained, skilled voices, as with character. Unfortunately for Sen, his absolute lack of the latter kills all the songs he attempts.  
Start with the title track, What's Your Rashee/Pal Pal Jisko Dhoonde. Sen tries to take Rahman's jazz/blues lead in Jaane Tu... Ya Jaane Na. It starts off alright with the right kind of sensuous jazz mood, but the moment Sen begins to croon, it falls apart. That's a real pity, because the song had tremendous potential, especially in the chorus parts where the right kind of voice could have lifted this number to its deserved levels. 
Jao Na, dedicated to the Aquarius girl, is receiving fair amount of air play, and is an interesting attempt at creating a sound driven purely by guitar, vocals and bass. The guitar parts hark back to the Ashiqui days, the singing, flat. Bollywood is now used to way superior guitar skills and this song suffers quite a bit because of the average musicianship. The hummable melody notwithstanding.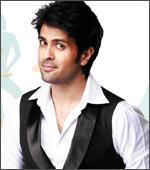 Sen tries his hand at fusing global sounds with folk in the Gemini track Aaja Lehraate (Shaan/Bhavya Pandit) with average results. While the Cancerian's Bikhri Bikhri (Sen, Marianne D/Cruz), is more like a soft ballad, and probably the only mellow number in the set. What makes this track work, is the deliciously slow tempo, driven by a tabla and a pleasant melody.
The Libran woman is somewhat of a Dominatrix, in Maanunga Maanunga, which has enough drama in the sounds, arrangement and lyrics to make for an interesting picturisation. Gowariker has sung this one, along with Pamela Jain. Quite a situational number, which however does not make for great listening.
Sen pays a personal tribute to Sooraj Barjatya and Ekta Kapoor (his uncle composed the erstwhile national favourite Kyunki Saas Bhi Kabhi Bahu Thi after all) with the Pisces girl's Sau Janam. Guess it is about the whole 'enduring love sworn at karva chaut'- kind of  storyline and the choice of singers is also not surprising -- Udit Narayan and Madhusheee and... Sen again!  
          
The Scorpio girl's Aa Le Chal (Aslesha Gowariker and Harman) is a song that could have been quite a catchy, peppy number but for the surprisingly naff sax sound coupled with Harman's mumbling. Aslesha, incidentally, is Gowariker's sister and a lawyer by profession and has an interesting voice to watch out for.
Alka Yagnik is at her unflattering worst in the Virgo song, Pyaari Pyaari, which is intended to be a dreamy number. Sen pairs up with Yagnik ineffectually in this number about a quiet, mellow kind of love.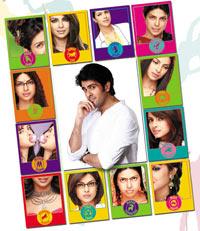 Somehow, the Taurean girl's Su Chhe springs a refreshing surprise with the right kind of Gujju glam. Flamenco style guitar with Arabic sounds, coupled with Bela Shende's lively singing makes this a zesty track. And more in keeping with the contemporary romance the film is purported to be.   
Salone Kya (Sagittarius) continues with the Arabic influences on a seductive note leading to an ambitious Dhadkan Dhadkan (Leo) in the next. This one (Tarannum Mallik and Sen) sees electronica meet Broadway in a robust track which pays a rightful tribute to this imperious fire sign.
Finally, what is my personal favourite, Koi Jaane Na (Rajab Ali Bharti and Bela Shende) for the Capricorn girl. Sen seems heavily influenced by both Ismail Durbar and Rahman in this track, with classical moorings and benefited by Rajab's powerful vocals. Haunting melody, lyrics (Javed Akhtar), vocals, arrangement -- most things seem to go right with this one, which could make for repeats.
Unfortunately, Sen ends with Chehre Jo Dekhe Hain, which begins on a promising and a raunchy groove, but dwindles into a 'karaoke arrangement' that is programmed into keyboards. The kind of track that plays when the credits roll and you are in a hurry to leave. Avoidable.      
To be fair, Sen tries every trick in his book to come up with a varied soundtrack, with each song trying to capture the essence of each of the zodiac signs. Unfortunately, execution is where this young lad from a famous musical family (his father is Sameer Sen of the Dilip Sen-Sameer Sen duo) falls flat on his face. As I have mentioned earlier, the guitar parts in some of the songs are extremely late 1980s- 1990s. The horn sections, instead of sexing things up, sound like cheesy elevator music, thanks to the poor production and trite solos. And then there's the problem with Sohail's singing.
All in all, What's Your Raashee is a case of wasted opportunity.
Rediff Rating: