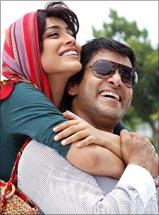 Post the success of an intelligently made Thiruttu Payale, it was only to be expected that Susi Ganesan's next Tamil movie should raise a boatload of expectations. It was supposedly the first super-hero movie in Tamil, boasting a glittering star-cast- all factors that made it a blockbuster-in-the-wings. So, does V Creations' Kandasamy, arguably the most anticipated movie of 2009 fulfill those hopes?
It tries to but doesn't quite make it to the finish line.
Right from the opening scenes, you see the path this mega-movie is going to take. Hordes of people from the economically weaker sections of the society are writhing in anxiety and lack of resources, while rich men barter in crores and fly from Paris to London with scant concern. The police play their part in ignoring pleas for help.
All is chaos when help comes, it seems, from divine sources: the lord Kandasamy, straight from the heavens or specifically around the vicinity of Thirupporur. All that you need to do is write a message and tie it around the temple tree, and your prayers are answered.
In the meantime, there's the trim and fit V Kandasamy IPS (Vikram) looking dashing and packing a lot of panache as he walks around very effectively around the CBI headquarters, conferring with his boss and a whole horde of cohorts. He canoes, works up a sweat with martial arts and conducts raids on stinking rich men, all with just the hint of a smile lurking on his face. All pretty amazing, and the scene is set perfectly making you eager for more.
You're not disappointed when the daughter Subbulakshmi (Shriya) of rich guy PPP (Ashish Vidhyarthi) prances onto the screen to the catchy tunes of Allegra composed by Devi Sri Prasad. It's the heroine's introduction, after all, and you've got to give allowances for these pointless interruptions. (To give credit where it's due, Shriya does a very creditable imitation of the matchless Shakira and the applause hits the roof).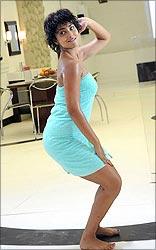 And then its back to business as Kandasamy IPS dons his rooster make-up (yes, that's his avatar, actually since he's an incarnation of Lord Muruga and must conform to one of the deity's symbols) and voila! He's superhero rooster, wearing a red eye-mask (that conceals nothing), a red cape, swishing it very admirably and makes clucking noises that takes some getting used to (and the audience erupt in giggles every time he does it). There's no suspense element to the IPS Officer/Super-hero alter-egos; you know straightaway it's the same guy and so, it seems, does everyone in the business.
Still, Kandasamy does have a definite presence, and he goes about accomplishing his purpose with a gang of 11 friends: to be a modern day Robin Hood who deprives the rich of ill-gotten gains so that he can shower the poor with money. In effect, he has no real super-powers except the one that's the mainstay of every Tamil hero from MGR to Vijay: the man can bash up 100 goons with just a flick of his wrist. He's a one-man killing machine, and logic can go for a toss.
Then there is Thengai Thenappan (Vadivelu), who provides the mandatory comedy track; even movies like this require one like it.
There are a couple of scenes where you can see signs of brilliance: when Kandhasamy's gang arranges a rescue attempt and the whole event is brilliantly "choreographed," the enormous set-up that exists to help him achieve it, and DIG Parandhaman's (Prabhu) attempts to track the divine Lord Kandasamy who's supposedly helping people right and left. At one point, Kandasamy is even captured, and his role-playing instincts are stripped away  but there's a twist to it.
Problem is, that's all the evidence there is in Susi Ganesan's screenplay. A superhero usually has a rock-solid flashback, attempting to explain why he becomes one. Here, Kandhasamy worked in a pizza shop, sang a song, and saw a friend's left hand amputated. Oh, and he loves acting as well. (That explains the rooster avatar). That's enough for him to take on multi-billionaires single-handedly, kill trained assassins and fool every law enforcement system in the country. And there are the mandatory speeches as well; endless lectures on how economic offenses cripple our country and how distributing everyone's wealth can help solve India's debt thus making every Indian citizen the best in the world.
Vikram is certainly the best thing in the movie. He's fit, lean, a great fighting machine with a permanent smile lurking in his eyes, which makes you forget a lot of imperfections in the screenplay. This man is made to play the intelligent hero though it's a pity that Kandasamy doesn't quite match his glittering screen presence.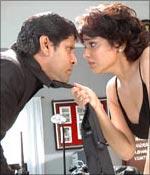 Shriya shows you just how well she can shake those hips; her costumes just mould to her shape and she makes sure you get an eyeful. Her dubbing voice is sultry, sexy and she could give any Hollywood heroine a run for her money. Which is a good thing, because, aside from prancing around in skimpy outfits in Mexico and other areas, there's nothing else for her to do.
Ashish Vidhyarthi is his usual, over-acting self while Prabhu is calm, cool, dignified, making him a pleasure to watch. Various smaller characters have done well. If only the extraneous poor people hadn't been played in such a wooden fashion.
Devi Sri Prasad has realised that movies with this budget don't often get made, and with plenty of copied tunes, goes all out. But the movie ultimately, belongs to cinematographer N K Ekambaram who performs magic with his camera, the special effects team, and costumers who have worked their hearts out. Technically and visually, the movie's excellent. Thotta Tharani's art-work is done with professional finesse.
At 3 hours 20 minutes, the movie could have done with some editing.
Watch Kandhasamy for its beautiful locales, a ravishing heroine, and Vikram's smile but go with nil expectations as this particular super-hero doesn't have much to offer a discerning viewer.
Rediff Rating: