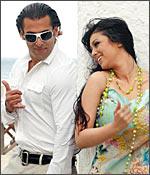 Music directors Sajid-Wajid and Salman Khan have a special bond, with Wajid being the star's playback voice successfully for a while now.
Salman-starrer Wanted has 12 tracks, including five remixes. Almost all the songs are fast-paced, high-energy action and dance tracks with a sell-by-date.   
Love Me Love Me, the first one, (Wajid and Amrita Kak) , is a catchy number with lyrics that go, Your mama says you love me…ku, My abba says you love me… ku. Yeah, it has 'Salman' written all over it, even though you have the famous Taufiq Qureshi performing live percussion on it. 
The Salmanalia continues with Kamal Khan's Ishq Vishq, who reprises his signature hiccups of O O Jane Jana (Pyaar Kiya to Darna Kya) with Oh Oh Oh Ah Oh! The effect is as expected.  
Shaan and Shreya Ghosal's relatively mellow duet Dil Leke would have been a regular, romantic number had it not been the clever use of the acoustic sitar. Sunil Das is an industry veteran and he brings his charming old school playing to turn the rather average melody to a more likeable one.
It has become kind of fashionable to include verses and hooks in some foreign language  for some unexplained reason. And the music directors include Spanish lyrics in Le Le Mazaa Le Le. Sung zestfully by Saumya Rao, Suzanne, Hrishikesh Kamerkar, and Nikita Nigam, this is quite a robust dance track which could easily be a hit on the dance floor, especially with the festive season looming large.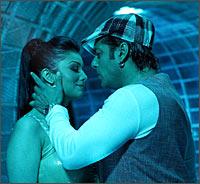 Jalwa, which fuses folk with global pop, is nothing to write home about, and you can easily hop across to Tose Pyar Karte Hain (Wajid, Sunidhi Chauhan). Bhojpuri gets a fun twist in this feverishly paced number. And for all Salman fans, you also get to hear him talk and sing in the Most Wanted track, which is a fast-paced, techno mix obviously inspired by Mission Impossible and the like.
Of the remixes, DY Amyth and Akbar Sami serve up a set of typical dance versions of the songs, with our vote going in favour of the latter.          
This is music with a swagger. A complete crowd pleaser which has no artistic aspirations. Much like the star it is meant for. Wanted is strictly for Salman fans.
Rediff Rating: