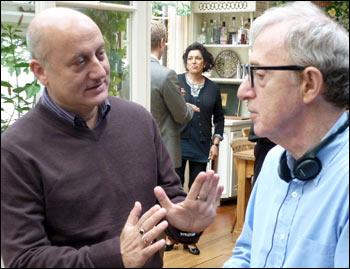 Freida Pinto isn't the only lucky one.
Besides the Slumdog Millionaire actress who bagged a film with famed Hollywood filmmaker Woody Allen, the other Indian actor working in the movie is Anupam Kher.
Kher gets to play Freida's father in Woody's yet-untitled film.
When Anupam got the news from his agent in London that Woody wanted him to play Freida's father, he was thrilled.
"On the sets when I met him for the first time, I just forgot that I have done 400 films in the industry and why was I still jittery," Kher said, talking about the three-day shoot for Woody's film. "But the day I saw him I was keyed up and besieged by his presence for the person who I have only read in books and who was my icon. It was difficult to explain that feeling but acting for this film reminded me of my first day of Saraansh. That was understandable when I was a rookie directed by Mahesh Bhatt. But then I managed to look confident though I was going through altogether a different feeling."
So what was the feeling of doing a film which has different audience?
"Audiences are different but all they want is quality performance from your end. The first day when I winded up my shoot, I realised that all what I had experienced as an actor in the decades was not of much use as one could not depend on any one school of acting. Each time I did a scene I knew am learning something new. To share one experience with you -- one day after I did my scenes, suddenly the sun got brighter and shooting stopped. I asked an assistant the reason and was told that Woody does not shoot in bright light. Everyone loves to shoot in bright light but Woody Allen does not," he added.