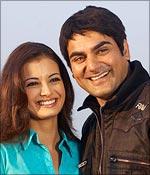 If Indian farmers started looking like Sohail Khan -- six packs in place -- half the country's rural woes would come to an end.
His new film Kisaan has him strutting around, playing a farmer, while his on and off screen brother Arbaaz Khan travels to the city to study law.
The film revolves around the age-old story of poor farmers being forced to sell their lands to rich businessmen for money.
Director Puneet Sira is certainly not being very creative on the story front. We've seen it all before -- and executed much better -- in films like Upkaar and Mother India. In fact, he seems to have failed on all fronts. The big star cast -- Sohail Khan, Arbaaz Khan, Jackie Shroff, Dia Mirza, Nauheed Cyrusi, Sarat Saxena and Dalip Tahil -- does not enhance the film either.
The story goes like this: Dayal Singh (Jackie Shroff) is the farmer father of Aman (Arbaaz Khan) and Jigaar (Sohail Khan). He can send only one of his sons to the city. So while Aman leaves, Jigaar stays back to become a farmer, and a very patriotic one at that.
Sohan Seth (Dalip Tahil) comes to the village to force farmers to sell their lands, enticing them with money. This upsets the idealistic Dayal, and the story takes life. Or rather, tries to.
Now the Singh family are Punjabis, but their accent is terrible. The director should have cast actors who were more fluent with the language, or at least, learnt it better.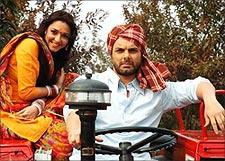 Arbaaz does a terrible job in the film. Jackie makes an visible effort but lands up being too dramatic. Dia and Nauheed are just props, adding some romance to the scenes.
Sohail does a decent job. So does newcomer Romeo, who plays the villain.
The film's music is boring.
Kisaan is really not worth the trip to the theatres. Don't even watch it if you have nothing to do.
Rediff rating: