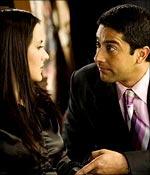 At least Daddy Cool announced that it was a copy of Frank Oz's Death At A Funeral, unlike most Hindi films who steal inspiration from Hollywood.
Unfortunately, the film is just not as cool as its title. Producers Ashok Thakeria and Inder Kumar bought the rights of the film and added two female parts to the original story -- Kim Sharma's and Sophie Choudry's characters.
Daddy Cool is about the death of Douglas Lazarus (Sharath Saxena). His sons Steven (Suniel Shetty) and Brian (Ashish Chowdhry) want to give him a good farewell, and invite friends and relatives.
But these friends and relatives have their own set of problems that they try to sort out during the funeral.
The entry of Andrew Symonds (Rajpal Yadav) changes everything for the family -- he was the late Douglas' gay partner. He now wants a share of Douglas's property to keep his mouth shut and not reveal his relationship with the deceased at the funeral. That's how the 'comedy' starts.
Last rites are taken rather seriously in our country, and so some of this comedy is not suited for Indian culture. Things like Prem Chopra shitting in Javed Jaffrey's hands does not qualify as funny. Or when Aftab Shivdasani, dressed in boxer shorts, tells Tulip Joshi that they need to marry because Tulip is pregnant, and everyone listening to the exchange start clapping when they are done.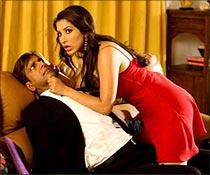 Sophie plays a model, who comes to the house to sleep with the man who is to give her an ad contract. Unfortunately, she has come to the wrong house, and since she has not seen the man in question before, mistakes Javed Jaffery for him. She then chases after him so that she can land the ad.
The film is set in Goa but only Javed and Vrajesh Hirjee speak Hindi the way Goans do. The rest speak in good Hindi with a splatter of English words.
The entire film takes place in one house, and the setting can get boring after a while.
Performances do not improve matters. Besides Javed and Aftab, the rest are pretty bad.
Music, however, is worth a listen.
Rediff Rating: