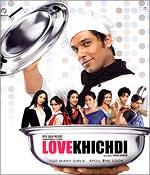 Randeep Hooda's new release Love Khichdi revolves around only one thing -- sex.
Hooda plays Casanova Vir, who is seduced by half a dozen women -- ranging from a school girl (Riya Sen) in minis to older women (Rituparna Sengupta, Sada, Divya Dutta and Jesse Randhawa).
He even ogles at his maid (Sonali Kulkarni) and dreams of taking a shower with her.
He has two ambitions. The first is to bed women, and he's quite successful there. He also dreams of starting his own restaurant, as he is a chef.
Of course, he does not believe in the concept of love. But it's not long before 'true love' finally finds him.
It's really unclear what writer-director Srinivas Bhashyam wanted to show in this sleazy film. Love Khichdi is anything but a cute love story.
But the weakest link in this whole enterprise is our leading man, completely miscast in this role. He tries to be funny but falls terribly short. He doesn't even look like the 26-year-old character that he's playing. He looks much older.
Saurabh Shukla is probably the saving grace of this tasteless comedy. But he's still not enough for you to make the trip to watch Love Khichdi.
Rediff Rating: