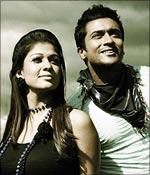 After K V Anand's Ayan, Surya is back with K S Ravikumar's Aadhavan, produced by Udhayanidhi Stalin. Nayanthara is the heroine. Harris Jeyaraj has composed the music to the lyrics of Thamarai, Na Muthukumar and Vaali . Here's what the album has to offer.
Mellow guitar strings begin Yeno Yeno Panithuli, which kind of remind you of an ABBA number but it's soothing, gentle, and does get your attention. The beats are steady, while Shaila Hada, Sudha Raghunathan and Andrea Jeremiah supply the vocals. The sax takes over the interlude, while the charanam sort of meanders from one end of the romantic spectrum to another. The rap segment is appealing, and the number maintains its softness throughout. Not scintillating but a pleasant listen.
The smooth, romantic number Aaraayo Vaaraayo, of Unni Krishnan and Chinmayi make you think you're listening to Gimme Gimme (another ABBA hit) as the subtle notes of a piano reach you first. Strains of Nenje Nenje can be heard as well in the charanam. It is mildly pleasing to the ear, but still, very familiar. The violin interlude is intensely bewitching, and some of its appeal continues into the charanam as well. You can't help feeling as though you've stumbled, sometimes, into a late eighties album. It might grow on you as you listen to it a couple of times but the credit for that would have to go to the instrumental music, and not the vocals.
Sandhya and Suvi Suresh begin Dheko Dheko, which harks back to the Rahatulla number from Ghajini and that pretty much says everything about this one. The lyrics are a mishmash of don't-care attitude (which grows tedious after a while) and liberal doses of rap. The pace is slow and steady, while the charanam suddenly morphs into an old-fashioned melody. It should have been mesmerising but somehow, its not. The veena interlude is sort of the saving grace of this number, but that's pretty much all you can say about it.
You can't really help it if the notes of a harmonica automatically remind you of Paartha Mudhal Naale, but there the resemblance ends. Benny Dayal takes up the reigns to render this one, and it's supposedly a happy-go-lucky song. The notes are stale, the beat only mildly interesting and the lyrics are all about winning the earth, the sky and the whole universe, come to think of it. A run-of-the-mill number.
Maasi Maasi is one of those songs which make you wish you had a universal translator device to make sense of the words, which sound like something straight out of an African ballad! Mano's deep voice supplies the vocals in company of Mega who certainly uses hers at full strength. The tribal echoes continue, but there's nothing haunting about it. It's a plain, beat-driven, and oft-heard.
After a list of mediocre numbers comes Hasili Fisiliye (you wish you knew what that meant), yet another romantic number, rendered by Harini and Karthik. After a few moments, you almost fall asleep. Which says much for its appeal.
Harris Jeyaraj is one of those composers who is not capable of turning out bad stuff even on a bad day, but this is one of those albums you can smell mediocrity from a mile away. Looks like Harris Jeyaraj is caught in the recycling rut. Yes, there are brief flashes of inspiration, but they last only moments.
Rediff Rating: