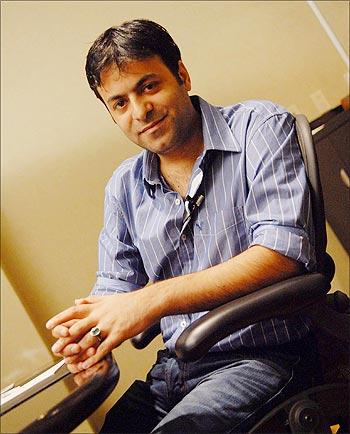 As Tarun Mansukhani is fine tuning the script for a sequel to his hit film Dostana, his main concern he says is to make a film that is in every way better than the original but will also work as a stand alone film. True, it will continue the story from the first movie, he says, but it should look very different from the first one.
Mansukhani, 33, who was in New York recently to attend the I View film festival organised by the advocacy group Engendered, confesses that he was not contemplating a sequel to the Abhishek Bachchan and John Abraham starring Dostana.
"But within a month or two of the film's release Karan Johar (buddy and the film's producer), Abhishek and John kept asking me when we will start working on the sequel," he says with a chuckle. He had to put aside his plans for other projects including a story about the process of death, and a urban thriller aside and start working on the sequel.
Mansukhani speaks with rapid fire enthusiasm but he also weighs his thoughts well. Having worked as an assistant director on six films starring Shah Rukh Khan, including Paheli which Shah Rukh produced, he could have started his first film with his favourite actor.
"But I believe that I should earn a Shah Rukh film," he says with a gentle laughter. "I don't think he would have said No had I approached him with a good script. But I felt that I admire him so much that I will first prove myself and may a year or two later, I will go to him with a fine script."
What could be the movie that he offers to Shah Rukh?
"Perhaps the film dealing with death..."
But hasn't Shah Rukh died in many films?
"Yes, but this film I want to make is more about how we look at the thought of dying," he says. "Considering that death is the only certain thing in anyone's life, I am baffled at people's fear about death."
Meanwhile, he thinks he would be ready to roll out the Dostana sequel early next year. It won't be set in Miami, he says, adding that he is looking for yet another trendy city, not just in America but in Europe or South America.
What would be the title of the sequel.
"There are so many ideas ranging from Dostana 2 to Dostana Rebound but whatever we choose, the word Dostana will be there."
Text: Arthur J Pais | Photograph: Paresh Gandhi