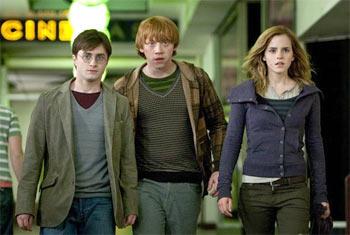 The boy wizard is back, and he's not really a boy anymore.
The final installment of the Harry Potter series, Harry Potter And The Deathly Hallows, has been broken down into two parts, the first of which comes out in November next year with the second releasing in 2011.
The first film (pictured here) sees Harry (Daniel Radcliffe), Ron (Rupert Grint) and Hermione (Emma Watson) on the run away from Hogwarts -- being hunted down by Death Eaters as they scurry for cover among the Muggles (humans).
'Being away from Hogwarts, they're like these three refugees on the run,' director David Yates told USA Today. 'They're out in the big bad world, facing real danger, unguarded by those wonderful benign wizards at Hogwarts. They don't have a home to go to. We're kind of pulling away from the magic a bit and bringing more reality to it.'
Yates has also spoken to Video Business magazine and confirmed that Radcliffe, now 20, will appear naked at some point during the last two films. 'A horcrux defends itself by producing nightmarish visions,' Yates explained, 'and one shows Hermione and Harry embracing and kissing. It's something intriguing and sensual for Rupert to react to, and Dan will be bare for that.'
Radcliffe has appeared naked before, on stage during productions of Equus at London's West End and New York's Broadway, but this will be a first for him on screen.
So much for them being children's films, then.