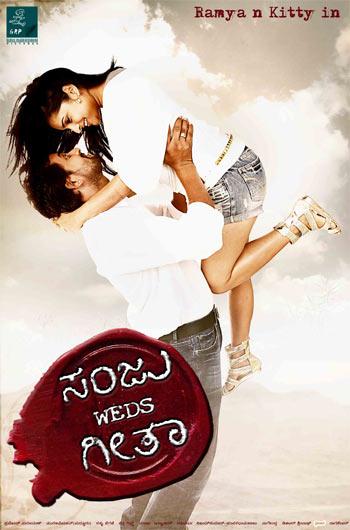 A big set which is being erected at the government owned Kanteerava Studios [Bangalore's well known film studios] has become a tourist attraction these days.
Many people who come to the adjoining Dr Raj Kumar's Samadhi are also stopping by the studios to catch a glimpse of this set, which has been in the making for more than a month now.
The set is being created for the shooting of a Kannada film titled Sanju Weds Geetha featuring Sreenagara Kitty and Ramya in the lead. The film is directed by actor/director Nagashekhar who earlier directed the Ganesh starrer Aramane.
The set looks like the replica of the once iconic structure of the central jail in Bangalore. Since the jail has been shifted to Parappana Agrahara, located in the outskirts of Bangalore, Nagashekhar decided to build a replica of the jail at the busy Gandhi Nagar, a commercial centre of the city.
The story is based on an event that happens in a single day.
"The set had to be recreated as most of the incidents happen in the jail's exterior and interiors. There are seven sets that have to be created for this film, but this one takes the cake as we have already spent nearly Rs 15 lakh on it," says Nagashekhar.
The film's shooting has already started in Ooty in Tamil Nadu where the schedules have been interrupted by continuous rains.
"Every artist and technician working in this 75-member unit is quite excited about the shoot. The film is a love story with a difference. I had already decided on casting my good friend Kitty and Ramya even before the shooting had started. This script was written much before I started Aramane and I had Ramya in mind when I was writing the whole script," says Nagashekhar.
Nagashekhar has decided to dedicate Sanju Weds Geetha to late talented actor and director Shankar Nag. He says that he is planning to make a small feature on Shankar Nag's life starting from the day he was born to the day his life ended due to a tragic road accident. He has already stored enough material in his computer which is full or photographs, articles and many interviews with many of his associates connected with the talented actor and director. "The small feature will be shown at the beginning of the film. And I want Shankar Nag's legacy to be remembered through my attempt," says Nagashekhar.
Nagashekhar plans to release the film in March or April 2010, which will be the twentieth year after Shankar Nag's tragic death. Incidentally Sanju and Geetha, the names of the two leading characters of this new film, have been taken from the names of the two leading characters of Shankar Nag-directed film
Geetha
, which was released in the mid-eighties.