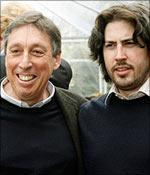 You don't need much money or a famous father to launch your film career, says a self-made film-maker Jason Reitman (right) whose latest Up in the Air which opens on Friday has received rave reviews.
Modern technology is often accused of changing the film-making style and leading to movie behemoths that cost around $200 million each but the technology can also help the making of short films that cost hardly anything, he says.
Reitman, 32, is expected to have a third hit in a row with the often funny, at times sad and in the final reckoning a life-affirming Up in The Air. The comedy with the corporate downsizing theme starring George Clooney and Jason Bateman follows his Thank You for Smoking in 2005, and the Oscar nominated Juno in 2007.
Reitman's newest film, which has created strong Oscar buzz started at the Toronto International Film Festival in September, is produced by his father Ivan Reitman, best-known for the movies Ghostbusters and Kindergarten Corps. Like his father, Jason Reitman too loves comedy but his films combine the serious and comic more than his famous father.
The sons and daughters of famous Hollywood fathers or mothers usually don't get respect in Hollywood, Jason Reitman said in Toronto at the Q and A for Up in the Air. The children are often seen as living on drugs and rock music, he added. And that means their movie aspirations are often not taken seriously -- at least in the beginning.
"But you can start making short films that cost nothing especially in the digital age," he said. "And today there are so many film festivals across the world that one can show a short film across the world. You may catch the attention of a producer at one film festival or other," he added. His short films were shown at more than a dozen film festivals in such cities as Aspen, Los Angeles, San Francisco, Edinburgh and London.
He began making short films and sending them to the film festival, hoping that his name won't be connected to his father's, he said with a chuckle. He wrote and directed six short films, financing his first short film, Operation, a comedy about kidney stealing with about $5,000; he made that money by selling ads in desk calendars. It premiered at the Sundance Film Festival in 1998.
Though he made the short films independent of his father, he proudly acknowledges how his father helped him study film-making. He confessed that he went to medical studies because he thought he was scared to follow in his father's footsteps.
The turning point came, he said recently addressing the students at Emerson College in Boston, when his father visited him at the medical school and asked him if being a doctor was enough for him.
"He said he would be proud of me if I became a doctor," Reitman recalled, "but he said 'there's not enough magic in it for you.'"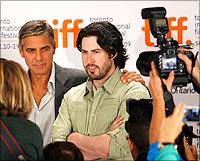 He followed his father's advice and studied creative writing and film-making at University of Southern California. "College is the time to figure out where your voice is," he asserted "Experiment with different genres and find your voice."
After making a $3 million feature film, Thank You For Smoking, he made Juno, a $5 million movie which was also discovered on the film festival circuit, starting with the Toronto International Film Festival. It went on to win the 2008 Academy Award for Best Original Screenplay (by Diablo Cody) and earned three other Oscar nominations, including Best Picture and Best Actress for Ellen Page. It also grossed $200 million worldwide.
At the Toronto International Film Festival Ivan Reitman attended the press Q and A, looking at his son with intense admiration. The father and son bond is growing stronger with each passing year.
'I grew up in a wonderful family with a lot of love and unlike most parents in Hollywood my parents have been together for over 30 years, he has said, 'and really sheltered me from a lot of what I heard the movie business can be and really the only aspect of the film business they opened up to me was to become a good story teller.'
Screenplay holds the key to the success of any film, he says.
'Think of what every screenplay does, and do the opposite;' he told the students at Emerson. 'Find a new way in... Write looking for the answers, don't write stuff you know the answers to.'