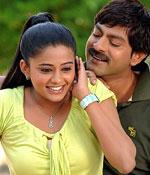 Director Madan's forte seems to be love stories. And he comes up with another one in the Telugu film Pravarakhyudu, starring the Pellaina Kothalo trio of Madan, Jagapathi Babu and Priyamani.
In Pravarakhyudu, Madan spins a mature love story about two lovers separating and meeting after 10 years. Madan has woven in some interesting messages in the script too. In Pravarakhyudu, the hero says there's nothing such as love as it's only a question of hormones attracting each other; it's societal norms that bind and legalise two people to live together through marriage. He has his reasons for saying so.
The heroine, on the other hand, finds it hard to believe that there can be a relationship without love.
That is what Madan outlines in a simple straightforward story. The name of the film may be a tongue-twister and baffling but a kind of an explanation is given in the second half of the movie.
Sasi Kumar (Jagapathi Babu) and Shailaja (Priyamani) are classmates in college. Shailaja begins to love Sasi but on hearing his thoughts on love, she gets upset and doesn't want to see him again.
Ten years later, Sasi returns home from the US (he is a Zoology professor at Harvard). He finds a job in the University and his parents see alliances for him. He does not like any girl. That's when his friend and classmate Sunil reminds him that he's looking out for somebody like Shailaja. Sasi discovers that she is the principal of a women's college. He meets her but she spurns him. So he requests the University to post him as a lecturer in the women's college in order to be close to her.
The second half has more meat than the first, as. Madan's writing is better and is more in depth.
The film's premise is rather thin but Madan builds it up fairly well (though with unnecessary intrusions like dances, the introduction of Hamsanandini's character and some humour). Madan shows his strength in patches -- some of the dialogues are well-written and the scenes well conceived.
The film belongs to the lead pair even though it's script driven. Jagapathi Babu and Priyamani elevate it with their performances. Jagapathi Babu looks younger, fit and dashing -- which suits the second half of the film. As a student, he seems more of a 'misfit' but his performance is praiseworthy.
Priyamani is natural and acts according to the character's demands. She is a delight to watch -- she's like a seasoned actress -- and matches up to Jagapathi Babu. Both make the film endearing.
Brahmanandam, Ali and Dharamavarapu have nothing much to do. Hamsanandini looks glamorous but her character does not gel with the narrative. 
Pravarakhyudu is shot well by Surendar Reddy, especially the parts shot in South Africa. The music by Keeravani is just about okay (nowhere near his previous efforts like Magadheera or even Madan's Gunde Jhallumandi).
Overall, the film is a decent entertainer with a message for the youth.
Rediff Rating: