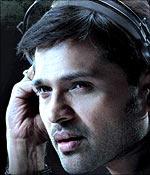 Himesh Reshammiya is glad that his acting skills in Radio have been appreciated, never mind the fate of the film at the box office. The film's music has been much appreciated as well.
"My journey as an actor has just begun," he says.
The three-film old actor is now looking forward to his fourth release, Kajra Re, early next year. It has been directed by Pooja Bhatt.
Himesh talks to Syed Firdaus Ashraf about Radio's fate, and Kajra Re.
Many critics have praised your performance in Radio.
Yes. I'm also happy that Radio has recovered its cost through music and satellite and video rights. The music was different and still, it was accepted. My new voice has been accepted (Himesh has not sung the Radio songs in his signature nasal voice).
After 100 films and 500 songs, my journey has just begun.
 
Now I am moving on to Kajra Re. Pooja Bhatt has presented me in a stunning way and has done a very good job. Mahesh Bhatt has written a very good script. This film is shot in Petra, the eighth wonder of the world in Jordan.
Did you expect this praise from the critics?
It's a triumph for me because people have loved my performance. I was in the music world and have emerged as an actor. It was a tough job and a learning process that will never end. I am doing my best with directors like Pooja Bhatt, Swapna Joshi and John Mathew Mathan in my films Kajra Re, Ishq Unplugged and A New Love Isshtory respectively.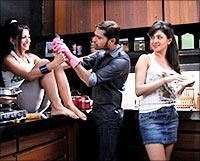 Some critics had their own view point but that's okay because it is their point of view.
Radio barely got released, and you have already moved on to your next project Kajra Re.
Yes. As a music director, I used to do 30 films a year. As an actor, if I do five-six films a year, it is not a lot for me. In the next six months, you will see three of my films releasing.
When you look back at Radio, do you feel you should have done something differently?
Yes. I feel I could have improved in many ways. But that's what I am saying. It is a learning process. You have to keep working and reinventing yourself.
What can we expect from the Kajra Re music?
The music is stunning because Mahesh Bhatt, Bhushan Kumarji (head honcho of T-Series music) and I have come together for this film. We are a deadly combination. There are seven songs in the film. I will sing in my nasal voice here, as well as my regular voice.
Mahesh Bhatt made magic with Bhushan Kumar's father Gulshan Kumar in musical hits like Dil Hai Ke Manta Nahi and Aashiqui. So 20 years later, should we expect another musical hit?
There are a lot of expectations for Kajra Re and I think we will be able to fulfill them.