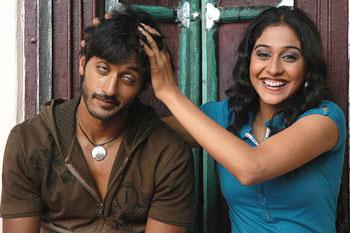 After giving the highly appreciated Aa Dinagalu, the team of director Chaithanya, music maestro Ilayaraja, cameraman H.C.Venu and promising young actor Chetan are back again with Suryakanth.
Chetan plays the role of a supari (contract) killer in the Kannada film which will also see the Kannada debut of Regina, a model-cum-actress from Chennai who had acted in Tamil films like Kanda Naal Modhal and Azhagiya Asura.
The film also stars Nasser, Ganesh Yadav and Ramakrisna in important roles. 
Chaithanya says that Suryakanthi will be different from his first film Aa Dinagalu which was very realistic. "Suryakanthi focuses more on entertainment unlike my first film Aa Dinagalu. I have deliberately added a lot of commercial elements to give a fantasy feel to the entire film. The film has fights, songs and all the masala needed for a commercial film. But I can a still assure you that it will have unpolluted and uncomplicated entertainment."
Suryakanthi is making lot of buzz for Ilayaraja's fantastic musical score and Chetan's six-pack in the songs shot in Uzbekisthan.
"Ilayaraja sir has come out with excellent melody tracks. Mouni Naanu aa Mouna Neenu is one song which has been widely appreciated. My favourite song is Edheya Baagilu Thattadhe, superbly rendered by Kunal Ganjawala and Shreya Ghoshal," says Chetan.
The film has been shot at various picturesque locations in Tashkent, Uttaranchal and Goa.