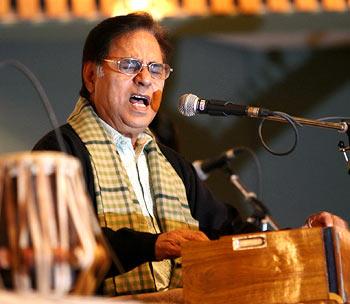 Jagjit Singh enthralled a jam-packed audience on the banks of the Dal Lake in Kashmir during a concert on December 8.
The legendary ghazal singer sang some of his highly acclaimed numbers including those from his famous album, Mirza Ghalib.
Besides a dozen Urdu ghazals, he also sang three Punjabi songs, which had the audience joining him in a chorus.
A day before the concert, Singh addressed a media conference where he said that he was happy to be in the Valley after nearly two decades to entertain his fans.
Singh said that he would return to Kashmir the next summer to hold an open air ghazal concert since Kashmir has a huge population of ghazal lovers.
"Kashmir has a large population of ghazal lovers, who understand the intricacies of the language and appreciate poetry in its true perspective," he said. "I have come to Kashmir after nearly two decades and am happy to be here again. I shall return here next summer to hold an open air ghazal concert so that thousands of ghazal lovers who appreciate my art can listen to me."