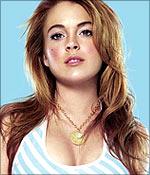 Hollywood actress Lindsay Lohan seems to have turned a new leaf during her trip to India, claiming to have saved 40 children on her first day in the country.
The blonde star, best known for her wild partying way of life, twittered that she was now leading 'a life worth living' as she had tired of the 'disconcerting' Hollywood lifestyle full of 'celebrities and lies'.
'Over 40 children saved so far... Within one day's work. This is what life is about... Doing this is a life worth living! Oh, and I'm talking about being in India,' the Mean Girls star wrote on the micro-blogging website Twitter.
The 23-year-old is currently in an unspecified location in the country shooting a documentary with BBC on the trafficking of women and children.
'Trafficking is a big issue here, I'm here to do what I can, and I will continue to do so... Focusing on celebrities and lies is so disconcerting, when we can be changing the world one child at a time,' she added.
Perhaps sensing a bit of skepticism over her ability to save dozens of lives in a single day, she explained, 'I'm only one person. Let's not start judging and looking for negatives that don't exist.'
Lohan also posted a photo clicked by her showing a man sitting next to a dump.