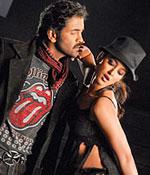 After watching the Telugu film Saleem, one is compelled to think how directors can churn out aimless and mindless formula entertainers by the dozen. There seems to be a paucity of good ideas and scripts in Telugu cinema. Some rejig is certainly required.
Saleem is one of those films that not only tests your patience but also is sans logic at times that it induces a yawn too. Director YVS Chowdhry has blindly fallen into the masala trap and dished out this unpalatable fare which has been in the making for quite a while.
The plot is as cliched as can be. Two warring families are trying to seek revenge. Singama Naidu (Napoleon) brings up his daughter Satyavathi (Ileana) in Europe as he feels her life is under threat from Appala Naidu (Mukesh Rishi). Despite his precautions however, Ileana is kidnapped by Appala Naidu's people. Saleem aka Munna (Manchu Vishnu) rescues her and promptly falls in love with her. She too pretends to fall in love with him but ditches him for Krish who happens to be Ojo (Mohan Babu's) brother. Ojo is a don settled in Europe who falls for his English teacher Kaveri Jha. The second half is the tussle between Ojo and Saleem.
There is no link between Saleem and Ojo. Nothing much is known about Saleem except for the fact that he is also a don like Ojo and an orphan. There are so many loopholes in the script that one just gives up trying to make sense. Unnecessary characters are added without any rhyme or reason or logic.
The camera pans on Ileana's body in the first few minutes of the film. Added to it is more vulgarity in the form of Ali's comedy.  There's even a duet between Mohan Babu and Kaveri Jha in itsy-bitsy outfits.
Sandeep Chowta's music also doesn't seem to work much. There are far too many songs which distract us from the narration. The negatives outnumber the positives. The plus points are the action sequences (by Vijay) and camera work (by Ramprasad). One is even tempted to walk out half way as some do.
Vishnu looks dapper with his lean look and makes an earnest attempt to do his best which he does in some sequences. Ileana is the lifeline of the film and is able to captivate the audience with her charming and innocent looks, and lots of skin show. Mohan Babu is his usual self. But what can these actors do in a badly and illogically written script? They can't really salvage such a pedestrian and banal film.
YVS Chowdhary can't take the audience to be so dim-witted to be giving this sort of insipid fare. Everything about the film is unexciting and below average. Watch Saleem at your own risk.
Rediff Rating: