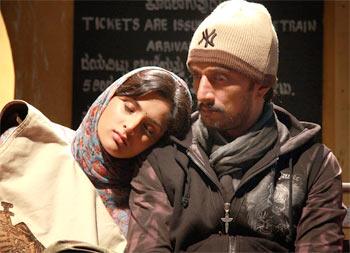 Sudeep's directorial venture Just Maath Maathalli made news for all wrong reasons initially.
First, actress Ramya walked out of the sets during a dance sequence. The incident created a furore which led the Karnataka Film Chamber of Commerce to intervene. A truce was declared among the film's producer Shankare Gowda, director and lead actor Sudeep, and dance director Harsha.
Ramya apologized for her behaviour and the matter was settled. Or so it seems now that Sudeep has announced that Ramya would no longer be a part of the film. A curious move since Sudeep has just released a few stills from the film which has Ramya in them.
Besides Sudeep and Ramya, popular television actor Rajesh and Keerthi -- whose performance in the film Nannusire was much appreciated -- play important roles in the Kannada movie.
Just Maath Maathalli is a love story scripted by Sudeep and his friend Naveen. "I had discussed the story line and the concept with my friend Naveen who gave me a lot of valuable inputs. We jointly wrote the screenplay. Music by Raghu Dixit is awesome. I decided on Raghu Dixit as soon as I heard his first album," says Sudeep.
Producer Shankar who is very happy with Sudeep says, "The only irritant was Ramya's behaviour on the sets. But even that matter was settled amicably. I am sure the audio will be a big hit."
Controversies aside, Ramya has confidence in the strength of her role. "Sudeep has done a fine job as a director and actor. I am sure this film will also be a big success like Mussanje Maathu. Raghu Dixit's music will be a major attraction of the film."
The film has been shot in Bangalore, Sakleshpur, Singapore and Germany.