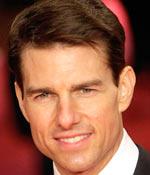 Tom Cruise has been sued for $ 5 million by a magazine editor over allegations that the actor hired a private detective to wiretap his phone.
According to documents filed at Los Angeles' County Superior Court, Michael Davis Sapir claims that Anthony Pellicano bugged his phone on the orders of his client, Tom Cruise, celebrity website TMZ.com reported.
This is not the first time Sapir and Cruise have come up against each other in the courts. In 2001, the actor sued Sapir after he alleged to have video evidence that the actor was in a gay relationship. They settled out of court that same year and both stated that the tape never existed.
But Sapir is now demanding $ 5 million in damages over the allegations of illegal wiretapping. It is not known which publication he works for.
Meanwhile, Pellicano is already serving a 15 year sentence for illegally bugging Cruise's phones, as well as a three-year stint behind bars for threatening a Los Angeles Times journalist.