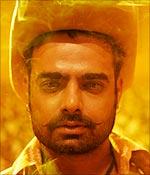 Those who have watched Anurag Kashyap's brilliant film Gulaal will not be forgetting its terrific actor Abhimanyu Singh any time soon. Abhimanyu played a powerful Rajput student-leader, who gets shot to death.
Abhimanyu will be seen at the marquee once again in this week's release Accident On Hill Road.
But it has been a long wait for the actor, who spent 10 struggling years in Mumbai before he bagged a decent role.
"It hasn't been easy," Abhimanyu admits, talking about his long struggle. "Gulaal gave me a chance to channelise my restlessness into a character that had layers of complexity," he said.
Abhimanyu studied in St Stephen's college in Delhi and decided to join the IAS (Indian Administrative Service) or IPS (Indian Police Service), as his parents wished. But he realised that he was not cut out to be a public servant, where he would be required to 'just follow orders.'
"The passion was fading away and I realised that I cannot work somewhere where I will have to say 'yes sir' to every person above me in the hierarchy, even if I don't agree. I wanted freedom to do what I wanted," he said.
His parents were quite upset with his change in career plan. Yet, they supported him and gave him money from time to time.
He came to Mumbai with dreams of pursuing an acting career, but a break was hard to come by. "The first eight years in Mumbai were very tough," he said. "I saw there was no point in waiting for hours to meet producers. They won't meet you and definitely won't give a role. I realised that if I wanted to act, I needed to join theatre where I could improve my acting skills first and also show my talent."
So he joined Makarand Deshpande's theatre group, and adopted him as his guru.
To make ends meet, Abhimanyu turned to television. And he admits it was a frustrating period in his life. "I had to do something to survive," he said. "I couldn't wait indefinitely for films. I'm not the type who will go and ask people for roles. I think this time in my life taught me how to live life and made me strong. There was a lot of aggression in me. It comes from my Bihari roots, I guess. I'd scream and cry in the privacy of my room."
At first, Abhimanyu lived with some relatives but later moved out.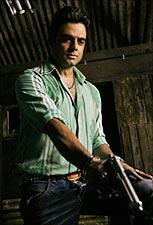 Abhimanyu bagged his first film, courtesy fellow Bihari actor Manoj Bajpai.
"I was in Patna when I got a call from Manoj. He said there was a major part in Rakyesh Mehra's Aks. It was a role of a cop."
But the film did nothing for Abhimanyu's career.
"It was during my theatre days that Anurag (Kashyap) saw me in one of the rehearsals. Mak sir (Makarand Deshpande) didn't like the way I overdid it. But when we left for the day, Anurag told me that he was planning a movie and that he had found Ransa. I didn't pay too much heed to it. But when it finally happened, I was glad. I felt my period of struggle was finally over. Or maybe it had started all over again," Abhimanyu said.
Gulaal took many long years to be made, and the delay increased Abhimanyu's frustration. "I'd have gone berserk had I not met Sargam (Singh), an actress who became my wife. Within a year of our marriage, our daughter Ameli was born. Sargam gave up her career. We are now expecting our second child," he said.
But Abhimanyu's proudest moment was when his parents watched Gulaal in Patna, and loved his work.
"They hadn't been to a theatre in 10 years," Abhimanyu said. "I was scared of what my father would think, with all the abusive language and hard-hitting content. But he loved the film. It pleases me to know that I've made people back home proud of me."
And Abhimanyu remains grateful to the man who made it possible. "Anurag has seen me right from beginning -- when I was raw and new. He has seen me grow from a child to a man. He blindly believed in me and was my saving grace," he said.
In his next film, Accident On Hill Road, Abhimanyu plays a hustler and drug dealer. "My character is funny as well as serious. I have managed to bring in some comedy into this serious film," he said.
His co-star Celina Jaitley pays an ambitious girl, whose car runs over a man (Farooq Sheikh). "I try to save her from all the trouble. But in due course, I die," he said.
After this, Abhimanyu will be seen in Ram Gopal Varma's Rakta Charitra, starring Vivek Oberoi.
Let's hope Abhimanyu's turn to shine in the sun has arrived.
Want to become Abhimanyu Singh's fan? Click here!