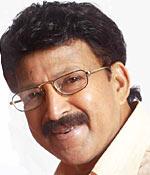 Kannada superstar Dr Vishnuvardhan, who was fondly called Sahasa Simha (brave lion), will be cremated with full state honours at the Ambhiman Studios, in the outskirts of Bangalore after 5 pm today.
The body of the 59-year-old actor is currently at the National College grounds where thousands of people have gathered to pay their last respects. The fans association have planned to take out a procession around Bangalore city at 4 pm before laying the star to rest.
Most Bangaloreans stayed at home after hearing the news, as they anticipated trouble similar to the one that took place when Kannada film icon Dr Rajkumar had died. While most establishments in the main part of the city remained open, the southern region of Bangalore remained shut.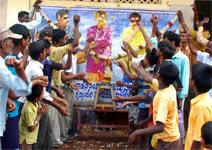 There were minor incidents of violence reported from the areas of Gandhinagar and Basavangudi. Some people burnt tyres and pelted stones at autos and buses. Fans forcibly downed shutters of several shops that remained open.
A high level meeting chaired by the Home Minister and the police department was convened to take stock of the situation. The Home Minister instructed the State Police Chief to deploy additional forces in order to keep the situation peaceful. Police sources said that the situation is now under control and additional forces deployed all over the city.
Meanwhile, the State Assembly passed a condolence resolution and declared one day mourning. All schools, colleges and theatres will remain shut today as a mark of respect.
Here's your chance to pay tribute to Dr Vishnuvardhan.
Photograph: KPN Photos