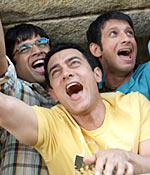 A group of desi college students lined up at a theatre in New York on December 25 to watch their second film of the day, Avatar. But they just could not stop talking about the film they had just seen, Aamir Khan's 3 Idiots.
One of the women in the group commented, '3 Idiots is going to be our Avatar.'
And she may be right.
3 Idiots has shattered many records, and has grossed $ 21 million in four days across the globe. The film made about $2.1 million in North America and about $800,000 in the UK in five days. It could have reached the $1 million mark in UK if the theatres weren't closed on Christmas Eve and Christmas.
The film stood at the number 12th spot on the American box office charts and number four in UK. The charts were led by Avatar's $ 75 million.
North American and UK grosses often help a breakeven film in India become an overall hit, and help films like Shah Rukh Khan's Paheli recoup the investment (Paheli was a flop in India but grossed a healthy $4 million abroad).
There is no entertainment tax in America and Canada as there is in India, and so producers can get about 60 percent of the box office gross, unlike in India where they get about 45 percent -- unless the government gives the film a tax break.
Director Rajkumar Hirani's 3 Idiots -- starring Aamir Khan, R Madhavan, Sharman Joshi and Kareena Kapoor -- was expected to become a big hit. But who would have thought that it would have the biggest opening for a Hindi film in India (beating Ghajini's record by about 20 percent)? And that it would have an awesome opening in North America?
3 Idiots made $1.6 million during the Christmas weekend and beat the jaw-dropping weekend openings of two films, Love Aaj Kal ($1.24 million, in August) and Kabhi Khushi Kabhie Gham ($1.1 million, 2001). Of course, tickets were about 20 percent less in 2001 than the average $8 ticket today.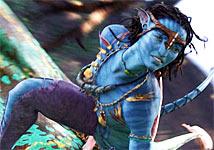 The Aamir Khan-starrer may end up with a formidable $4 million in North America. It gives its director Hirani a hattrick success after his Munnabhai movies.
This will be Aamir's fifth hit in a row, and may beat the all-time record for a Hindi film held by Deepa Mehta's Oscar nominated Water, which grossed $4.5 million.
The word of mouth for 3 Idiots is extraordinary as well.
'It doesn't insult your intelligence and yet it amuses you, and you can go home with a smile. I must make sure I will not laugh loudly on the subway.'
A young woman, accompanying him, said on the phone, 'It's amazing, amazing... Don't see it on video. You shouldn't be alone when you die by laughing.'