Water, the highest grossing ($5 million plus) Hindi film in North America, presented a deglamorized John Abraham. But apparently Rachael Saltz of The New York Times missed the film -- or forgot about John's work in it.
So in the review of his latest film, New York, which opened to decent but unspectacular numbers in America, Canada and the United Kingdom,  she writes: 'The ultrabuff Mr Abraham, who has made a career of displaying his toned torso, here uses his body to show the privations that flesh is heir to.'
The film which combines a love story with the problems many innocent Muslims faced in the post 9/11 America, shows John "in a particularly powerful shot… curled into a tiny box-like cell that fills the movie frame.'
But John is surely no match to Irrfan Khan.
The movie, which has been well reviewed in India, got a fairly decent review in The New York Times. Though the review faulted Khan for 'some crater size holes,' it also said the movie benefits from the performance of Irrfan, who plays a FBI agent.
The newspaper has been reviewing major Bollywood films since two years.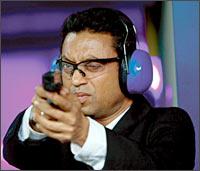 The production company Yash Raj Films which also distributed the film released it in over 900 screens worldwide.
The good opening for New York ends several months of draught at the desi box office scene in the lucrative foreign territories. Two weeks back, Vashu Bhagnani's Kal Kisne Dekha opened to a lukewarm response in India and abroad. It could not even gross $100,000 in North America and the UK.
Even if New York plummets by about 50 percent the next week as it happens in the case of many Hindi films, it could end its run with a healthy $2 million in North America, Europe, Australia and the Gulf countries.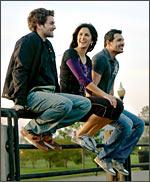 The box office success of New York is notable since some people had wondered if a film dealing with 9/11 could resonate with the audiences so long after the horrific event. The doubters remembered Shoot At Sight, an English film depicting a post 9/11 world in the United Kingdom, which was a box office bomb about a year and half ago. Directed by Jag Mundhra, and starring Naseeruddin Shah, Greta Scacchi and Om Puri, the film was released mostly in theatres screening Hindi films.
New York, the second film directed by Kabir Khan after the box office disappointment Kabul Express, grossed about $460,000 in three days in North America in 60 theatres and about $250,00 in the United Kingdom in 30 theatres.
New York's North American and the UK grosses looks small compared to that of Yash Raj's big hit Rab Ne Bana Di Jodi. But that of course starred Shah Rukh Khan, and was directed by Aditya Chopra.