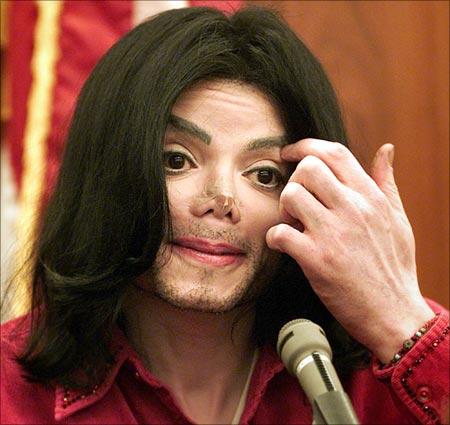 Each day we hear something new about Michael Jackson. The latest is that the pop icon, who passed away last week, may have been suffering from an eating disorder.
According to the singer's autopsy report, his body weighed only 50 kilos, grossly underweight for his 5feet 11 frame. Before his death too, Jackson kept getting progressively thinner.
And now there might have been an explanation for this, at least according to two authors of Michael Jackson biographies, who have put forward an intriguing theory -- that Jackson might have died of anorexia, reports the doubleX website.
'I'm going to make a prediction: Part of the contributing factor not only will be substance abuse ... but it will also be anorexia,' doubleX quoted Diane Dimond, who wrote a book about Jackson's molestation trial, as saying on CNN on Thursday.
Ian Halperin, author of the forthcoming Unmasked: The Final Years of Michael Jackson, also commented on Jackson's alarming weight loss in recent months. 'He goes days at a time hardly eating a thing, and at one point his doctor was asking people if he had been throwing up after meals,' he quoted a Jackson staff member as saying.
'He suspected bulimia, but when we said he hardly eats any meals, the doc thought it was probably anorexia.'
The only high profile case of death involving a celebrity due to anorexia is singer Karen Carpenter, who died of heart failure in 1983. She was just 32. Before then the disease was unknown to most Americans.
Besides Jackson's authors, Cynthia Bulik, a professor of psychiatry at the University of North Carolina at Chapel Hill, too had her suspicions that Jackson might have been suffering from anorexia.
'There are some people who just have whole cluster of co-morbid conditions: They might have substance abuse, alcohol abuse, an eating disorder, body dysmorphic disorder,' doubleX quoted her as saying. 'It becomes an exercise in futility to find out what caused what.'
Here, body dysmorphia is a psychiatric disorder in which a person becomes fixated on perceived defects in his appearance. It can lead to a dangerous obsession with plastic surgery, excessive dieting, attempts to camouflage despised features and also alcohol and drug abuse.
All these symptoms seem familiar, don't they? Still, we may never know for sure if Michael Jackson indeed literally starved to death.
Photograph: Reuters