There's chick lit, chick flick and here's chick music for you. Luck, directed by Soham Shah (of Kaal fame), has music by Salim-Sulaiman, and also features a bevy of evidently talented young girls who leave their signature all over the album.
Luck's four senoritas are Shruti Haasan, Satya Hinduja, Anushka Manchanda and Shruti Pathak. Haasan, a searing screen presence these days in her un-ending legs and sensuous moves in the songs sequences, lends a distinctive voice to the title track, Aazma (Luck is the key).
Haasan, who popped into limelight as a rock and experimental singer, shows off her skill and range with Aazma. And she gets ample help from her directors who roll out the musical red carpet for her.
Salim-Sulaiman's use of a soaring string section in the background creates a large, rich canvas for this song, making it sexy, slick, like a Bond track. The punch is as much in the way Haasan projects her trained voice as in the lyrics -- a mix of Hindi and English verses -- which urge you to try your luck.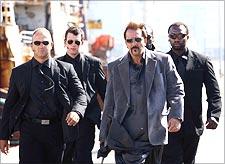 And though Sukhwinder does another version of the same early on in the album with moaning guitar riffs and robust drums, it hardly delivers the goods as this one.
Aazma by Shruti Haasan is definitely one of the best tracks in the album. And as you'll later discover, perhaps the only reason why you may want to pick up it up.
Senorita number two, Satya Hinduja, who has been assisting Salim-Sulaiman for a while, gets credit as an album engineer. But she has also pitched in competently with the English verses in Sukhwinder's version of Luck Aazma.
Shruti Pathak, who surprised everyone with Mar Jawaan in Fashion and Paayali in Dev D proves her mettle in Jee Lee. The song is receiving heavy airplay at the moment. Salim-Sulaiman use almost every trick in the book for this track -- guitars, flutes, hip-hop, Indi-folk -- but the result unfortunately is pretty average.
And neither Pathak's vocal skills nor Naresh Kamath's spirited performance can do anything to salvage a very ordinary, over-produced, hackneyed melody.
Senorita number four, Anushka Manchanda, goes for the kill with Lagaa Le. Created with an eye on the dance floor and ear for the DJ's console, this track marries Bollywood with electronica. The music industry's favourite Kenyan, Robert Omulo, joins in with a rap section at the end of this high-energy song.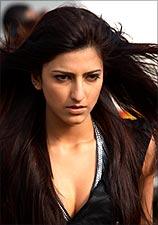 Now, the only soft, melody-driven song of the album is sung by Salim Merchant. Khudaya Ve is a fusion track with acoustic guitar strumming to alaap and sargam -- classical style. The song suffers majorly because of the mismatched lyrics and treatment. It is obviously a song for a tragic situation -- the lyrics speak of the pangs of love. But the arrangement somehow fails to convey the emotion. If anything at all, there is so much happening between lines such as Pyaase tadap rahe hai/saahil kareeb re and Ret se apne saaye/khud se kyun door bhage, that you will forget what the tears are all about.
Khudaya Ve has two remix versions. The one by Salim-Sulaiman (Radio Mix) uses breakbeats to snazz htings up, while DJ Amyth gives it a very Bollywood-ish touch. Jee Le and Sukhwinder's version of Luck Aazma too are remixed by DJ Amyth. Strictly for those who like their music at several decibels higher than customary.
Heard in isolation, each of the five tracks in Luck has merit. But as an album it is bit of an overkill. Four out of the five songs are fast-paced, production-heavy dance tracks, and if you listen to them at one go, chances are you will be unimpressed. And that's a real pity because it features very talented and competent bunch of singers and musicians. The other problem with the songs is the lack of a strong, sticky melody, that you could carry home, after the credits roll. Aazma may score over the other songs simply because it has three versions, each distinctively different from the other, but does not neccessarily mean it will last any longer than the errant monsoons.
Soham Shah's last film Kaal, is best remembered for its guest appearance by Shah Rukh Khan and Malaika Arora in the title track Kaal. One guesses, the music composers had a similar brief to work on for Luck as well. And that clincher track is Aazma by Shruti Haasan which manages to push the album half a notch higher.
Rediff Rating: