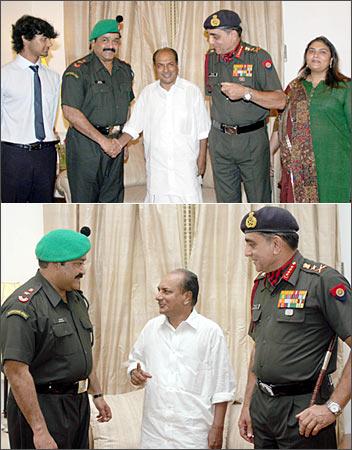 Malayalam superstar Mohanlal, who was inducted in the Indian Army today as honorary Lt Colonel, said the tough life faced by soldiers in Kargil and other parts of Jammu and Kashmir inspired him to join the armed forces.
The actor joined the Territorial Army (TA), the part-time citizen's force which functions as a vital adjunct to the regular army. Mohanlal will serve the 122 Infantry Battalion (TA) of Madras Regiment or 'Kannur Terriers.' Before donning the uniform, he had visited Kargil a couple of times.
"I am honoured to join the army. Kargil and Kashmir inspired me to join the forces and the tough time faced by the army personnel is the main motivation behind my step," he told reporters here.
He also hoped that his joining of the armed forces would inspire people in South India to join the army in large numbers.
Defence Minister A K Antony congratulated the actor on joining the army, and said that now youth will be motivated and inspired by Mohanlal's move and come forward to be part of the army.
The Ashoka Lion and star were pinned on Mohanlal's shoulders by army chief General Deepak Kapoor at a ceremony in Delhi today.
After former cricket captain Kapil Dev, Mohanlal is the second big celebrity to join the Territorial Army. He has acted in hit movies like Kirti Chakra and Kurukshetra. Incidentally, Kurukshetra was based on the Kargil war in 1999 and the actor played the role of a commando.
The Malayalam superstar has also won National Award three-times and was given Padmashri by the government for his contribution towards Indian cinema.
The Territorial Army comprises people from all walks of life who carry on with their profession while serving the service as officers and personnel below officer rank. The Territorial Army has taken part in the 1971 India-Pakistan war besides serving in several areas over the last 60 years.
The TA personnel at the time of national emergency may be called upon to become 'full-time' personnel to act in a supporting role to regular army units. At present, the TA has 42 infantry battalions.
In the photographs (Top): Mohanlal's son Pranav, Mohanlal, Defence Minister A K Antony, General Deepak Kapoor, chief of the army staff, and Mohanlal's wife Suchitra.
(Bottom) Mohanlal with Defence Minister Antony and General Deepak Kapoor
Photographs: Kind courtesy: Mathrubhumi