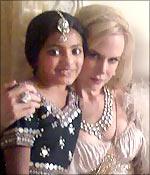 Slumdog Millionaire child star Rubina Ali describes Hollywood actress Nicole Kidman as 'strange' in her autobiography.
The nine-year-old girl, who has become one of the youngest person to publish her autobiography, Slumgirl Dreaming: Journey to the Stars, reveals how Kidman, who was in India to shoot for a commercial recently, was afraid to come out of her trailer.
Rubina played a child enchanted with Nicole's Indian princess character in the soft drink advertisement. 'I really liked her, but she was very quiet and didn't speak much. I think she was a bit shy,' Rubina wrote in her autobiography.
She then describes Kidman as 'strange' because the actress refused to come out of her trailer over the whole shoot, seemingly afraid of the sun on her complexion, Daily Mail reported. 'Nicole Kidman was strange and scared of the sun,' Rubina said.
The 192-page-book is written by journalist Divya Dugar. However, only 24 pages feature Rubina's life before multiple Oscar winning film Slumdog Millionaire. Rubina, who shot to fame by playing the young Latika in Danny Boyle's rags-to-riches tale, also talks about her journey from the slums of Mumbai to Hollywood and back to her shanty home again.