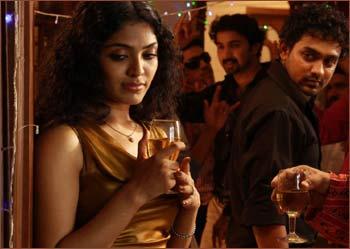 Shyamaprasad won the National award for the best regional film in 1998 for his debut Malayalam film, Agnisakshi.
The film, based on a novel of the same name by Lalithambika Antharjanam, starred Rajat Kapur and Shobhana. The film also won among many awards including the Gullupudi Srinivas Memorial award given to debut directors and the Aravindan Puraskaram. His other notable films include Akale and Ore Kadal. Ore Kadal, starring Mammootty and Meera Jasmine, was the inaugural film of the Indian Panorama at the International film festival of India in 2007 and won several honours.
He has served twice as a jury member of the National Film Awards.

His new film, Rithu (Seasons), is a buddy tale that blooms in the changing social and emotional landscape of a small south Indian town.

Three childhood friends, who grew up in the same neighborhood and went to same school and college, weave up their dreams about life together. Sarat, Varsha, and Sunny were inseparable in their love, bonding, and innocence. Sarat and Varsha grew fond of each other, in a more internal and less physical manner. Sunny is more like a brother to Sarat.
To raise money to achieve their dreams, Sarat leaves for California to live and work. The other two take up jobs in Bangalore.

Three years later, they return to the throes of their changing hometown. After an emotional reunion and a sweet build-up of hopes, each finds that beneath their camaraderie, they had actually outgrown their old selves. 

The main cast includes Nishan, Asif Ali and Rima. The film has been written by Joshua Newton and has cinematography by Shamdutt. Rafik Ahmed's lyrics have been composed by Rahulraj.