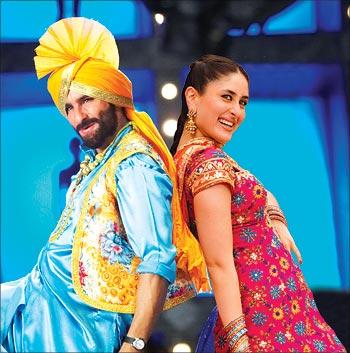 What is it with Imtiaz Ali and Punjabis? All his directorial ventures seem to have a strong bond with them.
His first film Socha Na Tha had Ayesha Takia and Abhay Deol playing Punjabis.
His Jab We Met had Kareena Kapoor play the bubbly Punjabi girl from Bhatinda, Geet Dhillon. 
In his upcoming film Love Aaj Kal, the Punjabi link is repeated as Saif Ali Khan sports a Sardar look.
We decided to ask the director, who hails from Jamshedpur, now in Jharkhand.
"The most talkative girls I have known in my life are Punjabis so while writing Jab We Met, the girl in the train automatically became a Punjabi," Imtiaz explains. "In Love Aaj Kal, I wanted an actor to play the younger age of another. So I thought if it is a Sikh gentleman, it will be easier to convince the audience. Like in this case, Saif is playing Rishi Kapoor's younger version. We created a difference in appearance by making him a Sardar."
Imtiaz claims that he loves the Punjabi culture, and so made an attempt to understand it further and conducted a research on it. "But I'm not saying that I am going to teach you the Sikh culture. The point is to treat it like a story," he says.