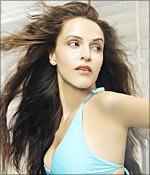 Neha Dhupia will now be seen in a US television show called Bollywood Hero, where she plays an actress, known more for the controversies surrounding her than talent.
Talking to PTI, Neha said she was signed for the show after an audition since the series' executive producer Tabrez Noorani was a friend. The show will be aired on IFC, an independent film channel.
The three-part one-hour mini series will premiere on the US television on August 6 and Neha has been invited to be part of the premiere telecast. Neha said her character Lalima in the show is of an overbearing, typical Bollywood heroine who is known more for controversies than her acting skills.
"It's spoofy and comical. It also has elements like how talent does not always get priority in showbiz," she said. Speaking on her films, the actress felt that 2008 was relatively a good year for her with release of films like Singh is Kinng, Dasvidaniya and Maharathi.
"Currently, I am shooting for five films -- Raat Gayi Baat Gayi with Rajat Kapur and Vinay Pathak, Action Replay with Akshay Kumar and Aishwarya Rai, De Dana Dan with Akshay Kumar and Katrina Kaif, Raftar with Emraan Hashmi and Pappu can't dance Sala with Vinay Pathak," she said.