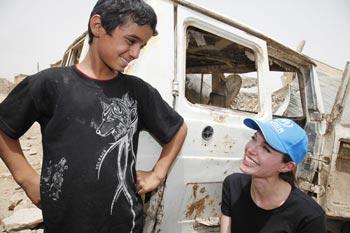 Angelina Jolie takes her role as a UN goodwill ambassador very seriously.
The Tomb Raider star visited Iraq, her third trip in two years as a UN goodwill ambassador, to appeal for aid to an estimated 1.6 million civilians who remain uprooted in their homeland.
 
According to telegraph.co.uk, the actress visited a makeshift camp for displaced Iraqis during her one-day trip to Baghdad.
'This is a moment where things seem to be improving on the ground, but Iraqis need a lot of support and help to rebuild their lives,' telegraph.co.uk quoted Jolie as saying.
'It takes a lot of strength for you to survive this life. I don't know if I would be strong enough to survive this,' Jolie added.
Earlier, the Hollywood superstar was honoured for her charity work by the Arab Children's Congress.
The actress flew out to Amman, Jordan, with her seven-year-old son Maddox on July 21 to appear as a guest of honour as a UN Goodwill Ambassador at the event.
According to In Touch Weekly, the star stayed with her friend Her Majesty Queen Noor, who is the founder of the Arab Children's Congress, reports Contactmusic.
Jolie supports the foundation, which aims to help Arab teenagers express their voices over their hopes and needs.
Meanwhile, in a desperate bid to get their troubled relationship back on track, Brad Pitt and Jolie are reportedly discussing making a sequel to Mr & Mrs Smith -- the film which brought them together.
Image: Angelina Jolie laughs with an internally displaced boy at a makeshift camp northwest of Baghdad.
Photograph: Ho New/Reuters