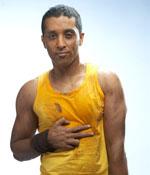 Indo-Canadian hip hop artist Ishq Bector is the first celebrity contestant on Iss Jungle Se Mujhe Bachao to be evicted.
The singer thinks the primary reason for this is that he is not a well-known face. He has expressed a desire to go back to the jungle through a wild card. Rajul Hegde finds out more.
Are you upset that you were the first one to be evicted from Iss Jungle?
Yes. I didn't even get to eat cockroaches [laughs]. I want to do more things. So I am wishing for a wild card entry.
Tell us about your experience in Iss Jungle Se Mujhe Bachao.
I think it was the right time and a great show to do. I had a wonderful time in the jungle. It was a chance of a lifetime to go back to the basics. It is a kind of beginning of a new civilization. Being in a jungle was getting back to nature; this was the base of our community, seeing how people made food and how they survived.
Any regrets?
Yes. I got eliminated even before I could complete the task, that too with all 10 stars. It did not even get aired. I'm from Canada and am here [in India] to try to make a living, a career. And just in a span of three days I was expected to impress the audience. To top it all, I had to compete with people like Aakashdeep Saighal, Chetan Hansraj, Shweta Tiwari and Mona Vasu, who already have such a huge fan base.
So I'm just feeling a little regret that even before people could get to know me properly, I got evicted. People would have voted seeing my snake task. I am very quiet and don't get into controversies to get attention so I can be only noticed for my task performances. I hope my fans will bombard the channel and ask for me to come back for the wild card round.
Did you enjoy the coffin task with the snakes?
Initially it was scary. I was about to vomit. But after completing the task, I felt great to have shared the coffin with those beautiful snakes. In fact, I was overwhelmed after completing the task.
Did you make friends with the celebrity participants?
The men were like a band of brothers. The minute we were assigned any work we used to get on with our chores. The same mentality was displayed when someone needed our help. The brotherhood was that strong [smiles]
What about the women?
Anaida, Shweta and Mona were very friendly. I shared a very good rapport with Mona. She is female version of me so we got along really well. I taught her to rap but I was out before she could teach me to act [laughs].
Who is your least favourite among the participants?
Fiza is not a positive person in the camp and not co-operative at all. I'm sure she won't stay on for long because, in the end, love always wins. All of us have a reason to be on the show as we all are associated with showbiz in some or the other way. I don't see any reason for Palak and Fiza to be on the show. Palak is immature and wants to be famous by any means. If you don't have talent you tend to adopt such means.
Who deserves to win the title?
I want Akashdeep, Aman, Mona, Shweta, Chetan or me, if I am thrown back in the jungle, to win the show.
What next?
I am now focused on my next two albums which will release in September. My video of the song is out which I composed during the stay in jungle.