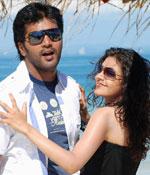 Gorgeous white girls prance on the beach. A handsome hunk dances with them to funky music by Hariharan and Lesle. It is the high life with fast cars, great music, bodyguards by the dozen, a sidekick and a whole business empire at the hunk's feet. Sounds like an ideal set-up? It is, until, with MediaOne and Global Entertainment's latest, much anticipated action suspense Tamil film, Modhi Vilaiyadu (Play the Game), directed Saran, begins to take itself too seriously and falls flat on its face.
You sit up, prepared to enjoy the show when you're introduced to OPM (Other People's Money) industry's Rajan Vasudev (Kalabhavan Mani), the millionaire with a mouth that needs soap. Habitually venting venom at his employees and using his acidic tongue on everyone, he nevertheless thinks the world of his son Udhay Vasudev (Vinay), who's known only the best of the best at his Adyar Boat Club home. There's a sidekick, Madhan, a bodyguard Asle, great friend Kadugu (Santhanam) and numerous subordinates to answer his every whim.
And then there's LR Easwari (Kajal Agarwal) and her gang of friends, all Viscom students who appear to have nothing better to do than hang around shopping, beautifying themselves or simply look stunning, which they do very well. Naturally, there's a run-in by L R Easwari, or Eesh, as she's called into Udhay, and his car gets smashed. Sparks fly as well, but he has a strange way of asking her to repay her debt. She does by working at menial household jobs until her Rs 3,00,000 debt is paid off.
No questions asked about why a girl who's as high-maintenance as Eesh must perform menial jobs. She certainly looks like she can afford Rs 3 crore, let alone Rs 3 lakh.
But director Saran seems to have fallen in love with depicting the lavish lifestyle of the Rich and Famous, rather than a story. So you have the sidekick Madhan falling in love with Eesh, Udhay cracking inane jokes in his horrible accent (which provides an inadvertent comedy tack) and Kadugu providing the only genuine laughs in the story, while Rajan Vaudev goes on making his millions, taking over companies at a blinding rate. He also causes the death of a particular rich kid that way and finally, the story proper begins.
Embittered enemy decides that he'll bring in an assassin Iqbal (Amith Dhawan) to kill Udhay, but the one who really ends up getting killed is Madhan. By rights, Udhay has made a miraculous escape until he finds himself locked out of his home, his father's office, and then learns a blinding revelation that completely changes his life.
So far, so good. The twist is admirable, and sets you up for a fast-paced hour with all sort of great twists which never happens. What on earth happened to the director who gave us Amarkkalam, Parthen Rasithen and Kadhal Mannan? To be sure, there's plenty of Ajith-mania in the movie, but aside from a couple of great moments, there's no sign of the director's distinctive touches. It looks like Saran tried a hand in portraying a world he was madly in love with but had no knowledge of. The rich and famous might be very well to ape, but their lives aren't quite this cartoonish, and solutions are rarely this simple in real life.
S Ramakrishnan's story seems infallible on paper, but the tragedy is that even as you watch the film, you can visualise every scene that could have been improved, and that leaves you very dissatisfied.
The cast is a cool one; even Kajal Agaarwal looks very pretty and capable, while Vinay impresses you with his expressive face. It's his accent that destroys everything, not to mention Kalabhavan Mani's exaggerated gestures. V M C Hanifaa and Santhanam easily walk off with the honours. The latter tickles your ribs, especially, with his imitation acts.
Milan's artwork is fantastic, while the SFX team deserves a special pat on the back. Part of the reason for why the movie is even barely watchable is their gimmicks.
Hari-Lesle's music works and Modhi Vilaiyadu is a really cool number, with Deva pitching in with a cameo. Latcham Varthaigal and Paadhi Kaadhal are pretty impressive too.
If only Saran had backed up the lavish sets, costumes, songs and dialogues with a story free of loop-holes.
Rediff Rating: