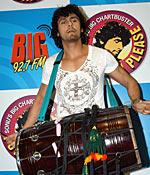 "I have ceased to exist," says Sonu Nigam. He is rehearsing for Explosion 2009, to be held at the Trump Taj Mahal Arena August 1; he takes off some minutes to talk about the show to be held in Atlantic City, New Jersey, detailing how it differs from his previous concerts.

"It is god who is working through me for this show. I wonder if anyone should even call it my show," he says.

He says god is an invisible partner in all his shows, whether it is a solo show or a concert with other artists -- in this instance, Sunidhi Chauhan, and Hard Kaur, the British Punjabi pop star.
"But this time," Nigam adds, "I particularly feel that god is directing me in everything I am doing, even the smallest move or gesture is coming from elsewhere; I am sure it is from god."

And then there is the question of rashi.

"I am a Leo, and so are Sunidhi and Hard Kaur," Nigam says, chuckling. "Imagine then the vibrant atmosphere on the stage. This is the first time I am performing with the lead artists in a show all of whom are Leos. This factor alone is enough to create unique magic."

Explosion 2009 is the only major Bollywood show this summer in America; in fact, it could be the only big show of its kind the entire year. The year has seen so far Asha Bhosle perform in Philadelphia and a few cities. Kailash Kher, who had a rousing performance at the Brooklyn Prospect Park, is going to several American cities too, and Jagjit Singh had a stellar performance in a few cities.

In a year without a star driven show, Explosion 2009 not only stands out but could also create quite an excitement.

A typical Sonu Nigam show is a mixture of his old and new hit songs, a tribute to his idol Mohammad Rafi, mimicry, and electrifying dance movements. Occasionally his father too appears in the concert, singing a Rafi song or two.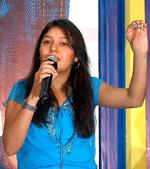 "I never really reveal what is in my new shows," Nigam says. "But there will be surprises. Even those who have seen many of my past performances should feel that I have given something new each time. That way, they have reasons to attend my concerts next year, and years after that."

He has performed across America and Canada for over a decade, at times with the legend Asha Bhosle, at the beginning of his Bollywood career and also a few years ago when he was at the height of his popularity. He has had several solo shows in major cities. And he has shared the stage with Kunal Ganjawala and Kher on different occasions.

"I realised long ago that even if I am the biggest attraction in a show, I should not monopolise it," Nigam says. "Whether I am performing with a well-known singer or a relatively less known artist, I follow certain principles. If we agreed on something right at the time a show was conceived, I will adhere to the agreements. If I have to sing eight songs, I will never try to sing nine, for that matter even eight and half, even if the audiences are clamoring for it.

"I would rather sing seven and half songs," he continues, "and let other artists have fun with their numbers. It is very easy in this business to be swayed by fan adulation and overlook that one's ego is bloating. Whenever I feel tempted, I remember what my parents had ingrained me from my childhood -- to share success with others, to be genuinely humble, and fear god."

When he was beginning his movie playback singing career, Nigam recollects with a gentle laugh, his mother had told him: 'You are not really cut for the movie industry.'

"I come from the Kayastha [a caste] community," he adds. "We are better known for our education and working in the administrative services. Given those factors, I am surprised from time to time what I have been able to achieve in the film industry in particular and the entertainment industry at large. "

Bharat Jotwani, who is hosting the Atlantic City show with entrepreneur and restaurateur Victor Khubani, says Nigam is a natural draw on the stage.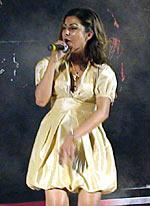 "His appeal is phenomenal," Jotwani adds. "He energizes the audiences in no time."

Jotwani, who has organised many star-driven shows in the last two decades, says only a few singers can draw an audience of more than 5,000 in the New York-New Jersey-Connecticut tristate area.

"We called the show Explosion 2009 because of the musical star power it has," he says. "Apart from Sonu who continues to be the most successful singer in the Hindi film industry, we have another big success, Sunidhi Chauhan.

"I look at her as an actress who can dance and sing," he continues. "She is good looking and she knows how to whip up the audiences emotions. She has had many major hits in the last two or three years in films like Omkara, and I am sure the audiences are expecting a lot from her."

As for Hard Kaur, he says, "the younger audiences will go crazy for her." 

How is that a high profile show such Explosion 2009 has just one performance in the tristate area?

"When you look at how much we have spent on the show, and when you consider how popular these artists are, it is logical to think of a second venue, in New York or on Long Island," Jotwani confesses. "We wanted to have a second show. But there are too many things going on in Sonu's career, and given the fact how busy he is, we could not get the dates that matched the availability of prestigious venues. In summer, the large auditoriums go booked many months in advance."