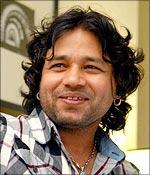 Kailash Kher will perform in Perelman Theatre in Philadelphia on July 30, along with his band Kailasa. The performance is part of the weekly Global Grooves world music dance parties being held Thursday nights through August 6 at the Perelman.

Kher and his band are visiting many cities in America -- including Houston -- and Canada in the next two and half months. They will also perform at the Hollywood Ball in Los Angeles.

Kher has performed with Sonu Nigam and other artists in America in the past. But this is the first time he is appearing in large cities with his own band. The tour is also meant to create excitement for the release of the album by World Music Label's subsidiary, Cumbancha Records. Sony Music will release it in India.

The label specialises in Latin, Afro-Cuban music and other genres of world music.

Called Yatra (Nomadic Souls), it will be the first internationally distributed album for Kher and his band. The album, due September 29, will feature new songs along the original numbers from his previous albums as well as unplugged recordings of some of the band's most appealing hits.

'I first heard Kailash's amazing track Tauba Tauba blasting out of a radio back in 2007, when I was zipping down the road in an autorickshaw in the Indian state of Kerala,' recalls Cumbancha founder Jacob Edgar, 'I made the driver slam on the brakes so I could find out who was making this incredible blend of funky pop and Indian roots music. I finally found out later it was Kailash Kher & Kailasa and I've been a big fan ever since. I am so excited to have them as part of the Cumbancha roster and to help introduce the world to a group that millions of people already revere.'

Kher, 35, has never received as much attention as he is getting now.

"It is not just my voice and music," says Kher, who was married a few months ago. "I have a fabulous band, and the brothers Naresh and Paresh Kamath bring their own strength to the songs I compose, helping me enrich them with awesome instrumental music."