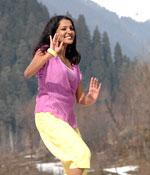 Actor/producer Vijayalakshmi Singh turned to direction two years ago with the Kannada film Ee Bhandana which had a simple yet absorbing story. Her second film Male Barali Manju Irali (MBMI) is another well made-film which also has a simple oft repeated story narrated in a feel good manner that is certain to tug at your heart strings.
The superb crafting of MBMI clearly proves that Singh has to be taken very seriously as a director. She can join the select band of good young directors like Yogaraj Bhat, Prakash, Soori and Guru Prasad. Her future films will certainly be looked forward to with great expectations.
Singh had described her film as a 'feel-good love story'. But it is much more than that. What makes Singh's film special and overtly enjoyable is the way she has narrated it with the help of a tight screenplay and great visuals. Her selection of the artists, locations, the background score and even the dialogues have gelled perfectly with the film.
The misty surroundings of the visually spectacular Madikeri and its peripheries with its hilly background provide an amazing visual experience for the viewers. She has taken care to see that the proceedings of the story gelled well into the visuals and the locations match the mood of the story.
Yes, the comedy of Sadhu and Sharan is a drab and outdated in the first half but they're used wonderfully in the second half. The first half of the film could have been trimmed a little.
The story revolves around Sneha who returns to Madikeri after fourteen years to be with her father, Shivappa who works for an estate owner. As a kid, Sneha was closer to the two kids of the estate owner. The memories are revived and Sneha finds one of them, Vishwas to be an introverted do-gooder but in a very distraught mood all the time. His brother Prem who is a fashion photographer in Bangalore, also returns to meet Sneha. He starts loving Sneha. But Sneha is more impressed with Vishwas and pleads with Prem to strengthen her bonds with Vishwas. A shocked Prem however decides to support Sneha and his brother. Vishwas does not reveal his inner feelings to Sneha and in a quick turn of events, Nayana who was engaged to him returns. The film ends up in an awesome climax.
Parvathy as Sneha steals the show. She comes with one of the most absorbing performances. She clearly proves that her performance in Milana was certainly not a flash in the pan. Her level of commitment to the role could be gauged by the way she has taken pains to dub in an alien language almost perfectly. Comparisons may be bad, but still one is compelled to compare her to the likes of Manju Warrier, Meera Jasmine and Priya Mani.
Sreenagara Kitty is another actor who is highly impressive especially in the climax sequence. For an actor who spoke so much in the recently released Savaaari, this role is a total contrast and he delivers very well. Naga Kiran shines. But it is Veteran actor Jai Jagadish who delivers his best performance in the film. He certainly deserves great appreciation for his absorbing performance as the father of Sneha.
Cameraman Ajay Vincent is another big hero of the film. Mano Murthy scores in background score, though you may feel that his music compositions could have been much better. The editing and the costume designing work is also top class.
When most of the big Kannada stars are focusing on remakes, it is nice to see an original film like this made with lesser known stars. The success of the film will prove that the future of the Kannada film industry lies in original creation and not in copying. Male Barali Manju Irali is a film that you should not miss.
Rediff Rating: