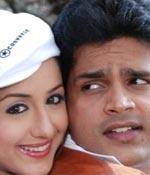 Just when you think Tamil cinema has entered a new phase where logic and reason have a slight edge over the proceedings, comes a movie like Annam Films' Anthony-Yaar? (Who is Anthony? And alternatively, a pun on the honorific St Anthony), directed by C T Pandi. It's a throwback to the worst commercial potboilers of the 80s when the hero cult was in full swing, and very little made sense on celluloid.
This time, the victim is Shaam. Never having proven himself as an actor thus far, he's back as the hero: orphaned Anthony (hence the question, presumably) care of a local church by the sea, run by Rajesh. Naturally, the man is a do-gooder, upholder of justice and his blood boils when he sees his "people" mauled. Anthony happens to be part of the local fishing community, and gives knowledgeable lectures on fishing and can recite the name of 36 types of nets at the drop of a hat. An interesting premise but there it stops.
Every hero must have an unequal and opposite villain, and that's Michael (Lal, in a positively horrible role) who buys the community's fish worth Rs 5,00,000 for Rs 50,000, yells and screams with henchmen with liberal abandon and takes an instant dislike to Anthony.
There's a pretty, fair-skinned girl as well: Manju (Mallika Kapoor), who is researching the lives of fishermen (for what purpose, it's never ascertained) the sister of local rich man Prem Sankar and his wife Pragathi (who seems to be the only real character in the whole set-up). She runs into Anthony at the church, and its love at first sight for her. Anthony, however, is merrily on his own way, unconcerned about nothing but his people's lives (which is, at least, a welcome respite, even if there are all the requisite duets under Dhina's lacklustre composition.). Manju goes about mooning over Anthony, even while securing a first prize for her PhD thesis (!).
Meanwhile, there's a nurse who falls for Anthony as well, while Kingfisher (Vivek) tries desperately to provide some laughs -- but his heart's obviously not in place.
Matters come to a head with Michael, despite the good Father's intervention, liberally slashing Anthony with a wicked aruvaal, and beating him up. The latter's thrown fighting for his life into the ocean. Any normal human being would have died by drowning, but Anthony being who he is, receives divine intervention (in the form of a blue ray like those science fiction), practically flies through the air, and thrashes Michael's men until they scream for mercy.
You'd think that this might prove to be an interesting twist a la Namma Veettu Dheivam, where a deity enters human form. Certainly there's no other reason to explain why a hitherto peace-loving Anthony suddenly turns into a one-man Terminator capable of bashing hundreds. But this is a hero-centric film devoid of intelligence, so Anthony gives people a severe lecture on peace, goodwill, forgiveness, turning the other cheek, thus ensuring the loyalty of hundreds who would follow him even into the sea.
You feel some pity for the whole technical team that's obviously slogged over this movie, which has been in the making for more than a couple of years but when you take a look at the robotic cast and the screenplay that's filled with loopholes the size of a crater, you lose any sign of respect for this excuse for a movie.
Watch it at your own peril.
Rediff Rating: